Today I am going to present you a Mexican designer who had conquer a segment of the fashion market designing a very common accessory with a very unique and original technique.
I am talking about Claudia Cornew, she design and produce handcraft handbags with a very original and different technique called Felted Wool, which she will explain us latter what is it. Claudia studied Chemistry at college but she dropped it, because she was more interested in design, art and handcrafting. Later, she started Industrial Design where she found her profound passion for the art and she exploited her creative side as much as she could. Even though she dropped again her studies, the experience was very rich, especially because it was during that period that she really connected with her current job and passion.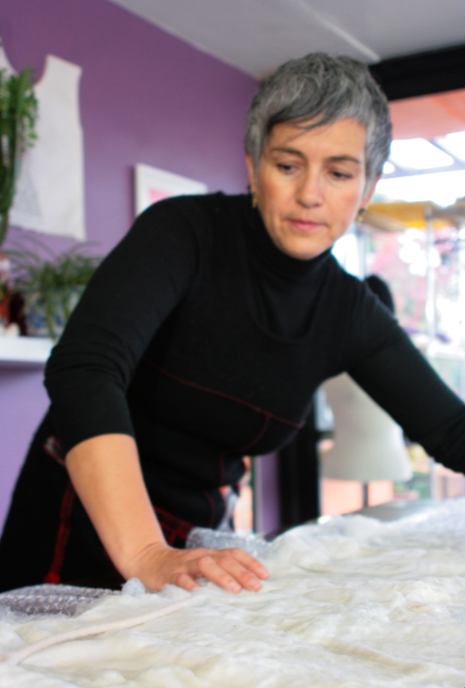 1. When did you decide to dedicate your life to fashion?
I think everything started when I studied Industrial Design; I had a lot of contact with the creative world. I've always worked with textiles and embroidery, I love all that! I really enjoy the manual work what I do it's very technical.
2. Why did you decide to do handbags?
It was not planned, one day I learned about the technique (Felted wool) so I made my first handbag and everybody loved it. Then, I started to explore more the materials and how to work with them. At the beginning I used Mexican wool, but then after trying different things, I realized that it was not the ideal material for the handbag, it was too rough. So, I started to use the Australian wool that is softer. I continued exploring the technique, I made a lot of research and I found out that there are many things that can be done to innovate. I've learnt the technique form an American friend since my husband is American and that makes easier to learn and research about it. Currently I am doing also bracelets, wallets and basic clothes where the contrast of wool and silk are interesting.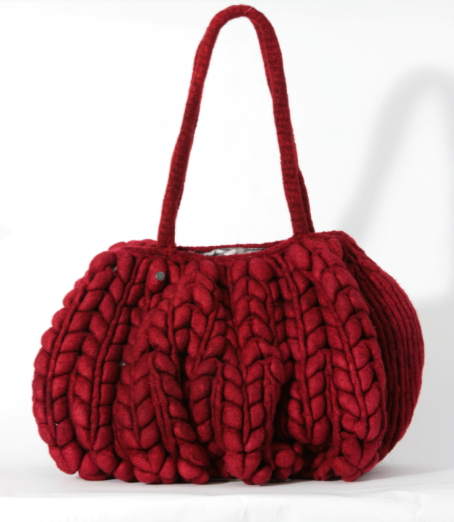 3. The selection of a handbag by a woman has a special meaning for you?
For me, the more important thing that a women has to consider when she choose a handbag is comfort, more than fashion. I only sale in my studio, and there I help my client to select the best handbag for her, there is always an special color and size for each woman and I always tell them which one is better for them. Sometimes I prefer to tell the truth than close the sale. My objective is to help my client to look better, buying something that looks good on them, and I am always very honest. All the people that come to my studio learn about my products because someone else has recommended me to them, so I always try to make them feel comfortable feeling that they buy something that really match with her personality.
4. What do we have to carry in a handbag?
You have to carry as less as you can! Really, we usually have too many things in the handbag and we don't use any of that. I believe the more important things that we should carry are: money to be able to move around, a mobile for emergencies and your house keys.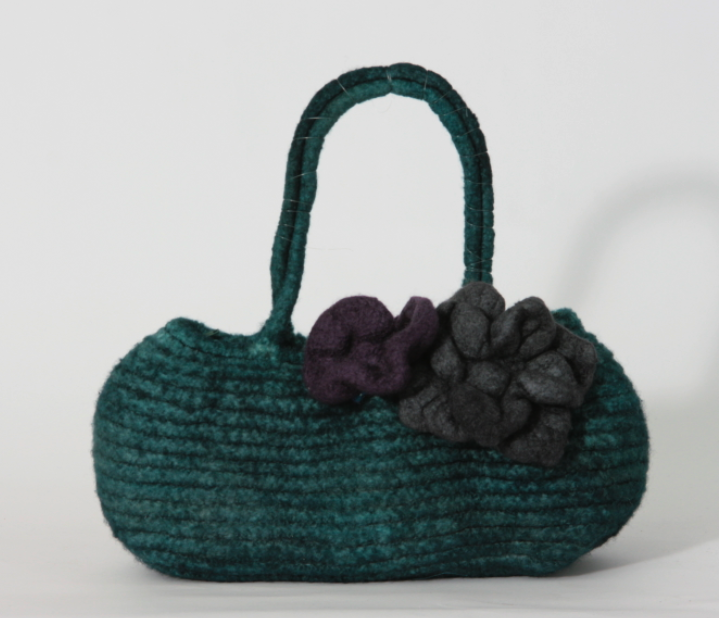 5. Is there an ideal handbag size?
Not really, it is very personal choice. Some women can't use what is in fashion because they will not look good. I believe the size of the handbag depends on your personality. I don't create my handbags following any season, but what I do is to change in every new collection the whole color palette and the designs. For example, now I am doing more sophisticated handbags, bigger than before, with a lot of style and color. I design based on my personality, my experiences, I want to transmit that on my products. The only thing that I maintain always is the material that I use (Felted wool) because I love it, it is very rare and original, some people ask me to mix it with other things but I don't want to, I love it the way it is. (Until now we are still talking about the technique Felted wool and I am sure that by now you want to know, what is that???? … Well here is the explanation)
6. Are all your products hand made? Do you do all by yourself?
Everything is hand made, but I have a lot of help. I have my studio where I sell the handbags, but I also have a studio in my house, and there I dye the materials with another person that helps me. Once the embroidered bag is ready I apply the Felted Wool process. The process consist in disturbing the wool elements by changing the temperature, humidity and PH of the wool, all of that shrinks the handbag and once I get the shape I want, I dye it with the color of my choice. It is important to say that every handbag is different because the color is never the same intensity. Once the handbags are ready, I send them to the seamstress who makes the linings. With time I acquire a better technique of knitting by working with weavers of the State of Mexico who tought me the crochet technique that they use to produce dresses and carpets. They used a very thin crochet hook so I changed it to a thicker one to do my handbags. Currently, I still work with them but since they are too many, I explain what I want to do to one of them and then she explain the request to the others and then everything is fine. I give work to many people, I give them the material to knit and then at home in my studio I apply the Felted Wool process. In my studio I have white handbags so my clients can choose the design and the color, making a totally personalized product. As you can see, many of the handbags have flowers, but they are a separated item, people can use them in the handbag or as a pin. I have all of them in a tray and people choose the one they like. I also have another accessories like bracelets, rings which I do personally because those are not knitted, they only use the Felted wool technique applied in woolen fiber (animal hair). One important thing is that all my products are hand wash with cold water.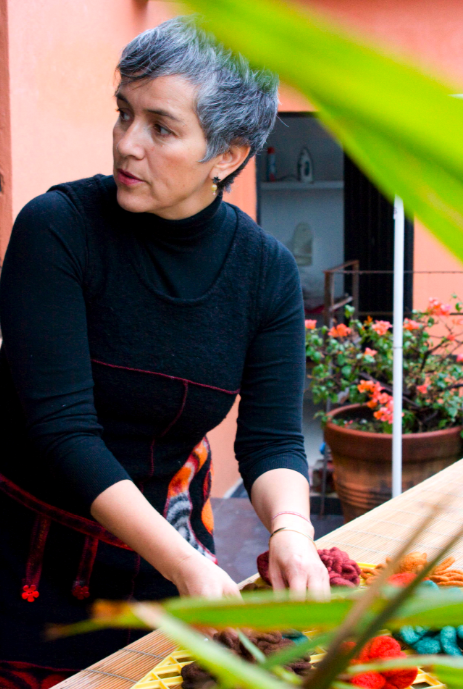 7. What makes you different from your competitors?
The material and the way I commercialize the products. People loves to go to the designer "atelier" and chose their handbag there, it makes a very exclusive and fun experience. I don't know how do people learn about my studio but I have clients visiting me every day. Now, I started to sell my products in the "Fusion Bazar" that is for new designers and it has a lot of people every time they open. The next bazar will be in December 2 to 4 in Coyoacan. You can check the information here.
www.proyectofusion.mx.org
8. What is your source of inspiration?
Everything inspires me, I am always alert, I had little notebook where I write all the ideas that I see, the colors, graphics, everything. I think it's an attitude of being always alert. I have a lot of notebooks with ideas, and sometimes I use them to start working, other times I just put them in a drawer for later. I travel a lot, and I love art, so I go a lot to museums and I am always looking for art. I love Bauhaus, the contemporary art inspires me. The secret is to be open to observe, observe and observe, then draw the idea, write the color and always be like that. I've just travel to New York and that was a very important trip for me. I also went to Australia where they are specialist in wool, so I always learn in my trips.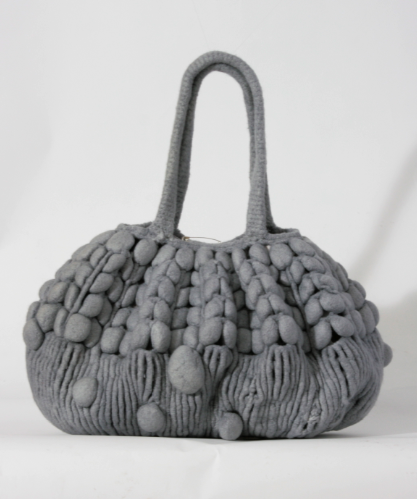 9. Tell me about your future plans, what are you going to do?
I am going to start selling at the MOMA in NY!!! They have a program called "Destination Mexico" that has the purpose of support Mexican designers. First the people from the MOMA came on May or April, and hire the art curator from the Franz Mayer, Ana Elena Mallet. She chooses from 500 designers the 80 that will be finalist and I was part of that group. Then we had to send some samples and it was a selection process during the summer until we end up being only around 50 designers that will go to sell their products at the MOMA in New York. I can tell you that all the products are very beautiful because I've seen many of them in the Bazar Fusion where I sell my handbags. I believe this is a unique opportunity and I want to make the most out of it.
And before we finish ….
What do you think that can define the style of a woman?
I think is all about the personality, is about what she really is and how she show it to the others. Sometimes in my studio, I see people that try to project an image that is not really who they are. I can see that because I am very good analyzing the human behavior and I use that to help my clients when they buy my products. Since my products are not cheap, I always help my clients to choose the best thing for them; it's part of the service and they like that a lot.
What advice will you give to the entrepreneurs that are starting?
I will tell them to not give up, even if they fail and the business is not that attractive at the beginning. Something that works for me is to always try new things, I do experiments and then I analyze the result and if I don't like it, I try again with something different. I was very lucky because when I launch my product the Felted wool was a complete innovation in Mexico. Sometimes when things didn't go the way I wanted, I was kind of depressed but I keep trying until I get a product that has high quality. I believe I do a very consistent product considering that is a hand made work, not an industrial production. I love what I do!
Uf! what can I say … I just love Claudias' work and I feel very proud to know that many mexicans designers will start selling their products at the MOMA in NY. You can see all the information about the show room of Claudia here.
See you soon!
Fabiola
This post is also available in: Spanish