Yesterday I went to the theater; I saw a play called "Love, pain and what do I wear" (based on the book of Ilene Beckerman) and I just loved it! Five actresses performed a set of monologues about women of different ages and backgrounds, stories always related with what they wore on each situation. I loved it, because the play made me realize how important is the role of our clothes in our life. Our clothes have been with us in many adventures, accomplishments and even romances.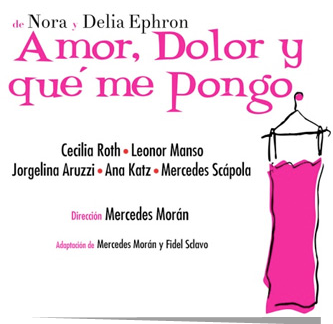 It is interesting that we start to define our personal style since we are child. In my case, I had to fight a little to be able to wear what I wanted. My mum, as any mother of that time, loved to buy exactly the same clothes for my sister and me, she loved to see us as twins. Any one that knows me will understand how difficult was that, since we have very different personalities. So, imagine the nightmare every time that we went shopping! So, when I was 7, we went shopping and I finally I stopped accepting matching clothes and I started to choose my own style. As you can imagine, my mum was kind of devastated because all of a sudden her children were not matching dresses any more.
Later on, my mum finally accepted that we were different and she let us choose our clothes for everything, including special events. We, my sister and I, were invited to a first communion and my mum let us choose what to wear. My sister, as she always does, chose the more feminine dress, everything was matching, lot of flowers, perfect hair, perfect shoes, all was perfect.
Me … well since my plan was to have fun with my friends, I chose my favorite outfit: 70's green trousers with squares and circles, and a green t-shirt with a little chicken in the front. I was feeling so perfect that I went down the stairs and I got shocked when my mum started to jell at me. The worst thing in my look was that my t-shirt had a big hole in the shoulder, which of course, I didn't even notice … it was my favorite shirt! So, my mum sent me back to my room to "fix the disaster", and I did so … I came down to the living room with a safety pin on my shoulder, the disaster was fixed! …
God! It is not necessary to tell you how my mum reacted; I end up wearing a beautiful and feminine dress … just like my sister…
I told you this story, because I am sure you also have a lot of memories attached to your clothes, clothes that made you feel special, sad or happy. For example, your first communion dress, your prom dress, your wedding dress, your first miniskirt, your favorites high hills, your favorite shoes … any way if our clothes could talk, how many stories will they tell?
The year is ending and I believe it's a great moment to make a balance of everything that you have done during 2010. Try to think in all the good moments that you spend and try to remember what did you wear for it? Was that a dress that made your feel special?
Do you have any story based in a special dress that changes your life? If you don't have any story, is a great time to create one! As I always tell you, have fun choosing your clothes, create magic looks and enjoy remembering good moments with the clothes in your closet!
See you soon!
Fabiola
This post is also available in: Spanish