We live in a world where the physical appearance is more important every day, in order to be "beautiful", women have to be skinny, tan and look always young.
Honestly, I disagree with that, maybe I am against the flow but I am convinced that beauty is more than that. We don't have try to be "perfect" and end up looking all alike. That is not pretty at all!
For me, one of the greatest miracles in life is that diversity exists! Thank God! We are different from each other, imagine how boring will be if we were all the same! … Especially if all of us conceived beauty in the same way … we will all fight for the same! As Sheldon will say … "The Horror!"
Individuality is our best gift, we all are different and we all have a special beauty that makes us unique. Everybody is different, even twins are different form each other, so … why everybody is trying to copy the beauty parameters of the others? It is much better to develop our attractiveness learning how to look beautiful in every situation.
Here in Manequi, I offer you the chance to find your own style based on your personality, your physical appearance and your life style. All those things will have an influence in the way you look, I can show you how to look gorgeous at anytime even if you are at work, if you go shopping or if you are taking care of your family.
"People treat you the way they see you", sad … but true, people judge you by appearances, and sometimes, that could stress us and make us fall in the game of "being as everybody else".
Relax there is no need to do that, you can be yourself, and be accepted because society also celebrate originality and authenticity. The only thing that you have to do, is to find the best way to be yourself and that could be done if you know which are the best clothes for your body, which colors are better for your face or even what haircut will make you look more beautiful.
So, today I am launching the Online Image Consulting service where I will give you a complete analysis of your style, the best clothes for your body and every single aspect that you need to know in order to be the best version of yourself.
If you buy the Online Image Consulting service, you will have a document that will be useful for all your life since remember, our body structure doesn't change even if you put on, or if we loose weight. It will be a great investment and a chance to have that image that you want to project.
Here I show you some pictures of one of my clients. As you can see, she really changed just by using the proper clothes and the right haircut. As you can see, she even look thinner, well she is thinner but her other clothes made her look bigger.
Observe that her transformation was internal and external, her attitude is different she looks more happy and self-confidence.
Outfit to go to the movies (before and after the image consultancy)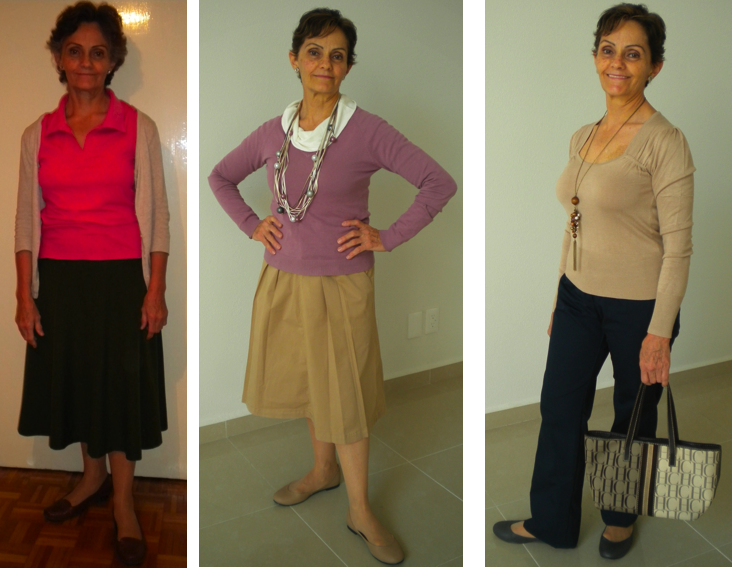 Outfit to go out with friends at night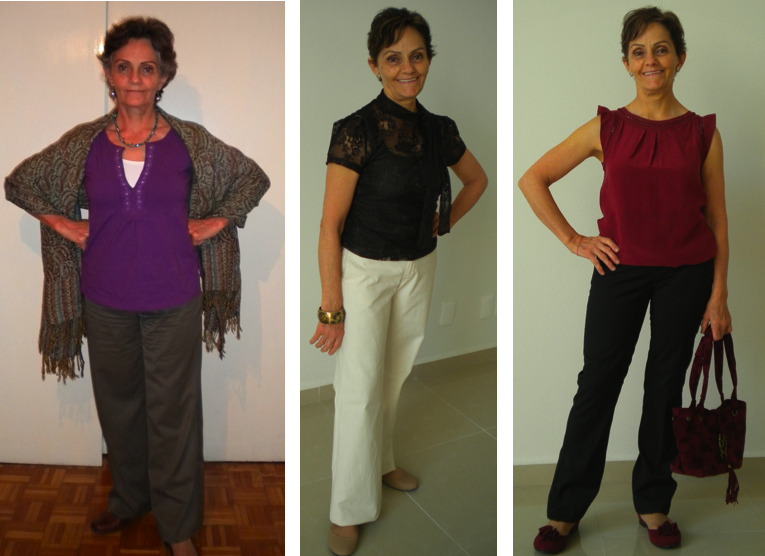 Outfit to stay at home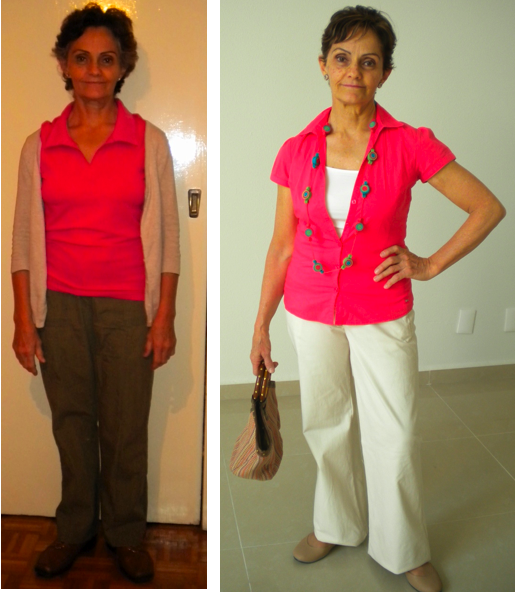 You see? There is nothing to loose, you just have to decide to make the change!!!
See you soon!
Fabiola
This post is also available in: Spanish