October 17th, 2013
I love to look for new stores, innovative products and creative designers. Few days ago I went to a place here in Mexico City called Bazar Fusion, which is relatively new and its the house of many local designers that have art craft products with very original designs. Hanging around the bazar, I found amazing stores, and among the ones that catch my attention was one with super original and colorful designs, the store of Mina Álvarez.
The store belongs to the Mexican designer Mina Álvarez, who has a solid trajectory for more than 30 years in the fashion world. Ten years ago, she visited Chiapas and fell in love with the colors and the feeling of the area, the soul of the culture, and specially after knowing Antonia, the first craftswoman that later will become her friend and business partner. After that, she decided to launch her clothing line called like her … Mina Álvarez.
One of the objectives of this brand is to support economically and socially the 65 craftswomen from Chiapas at the communities of Zincantán, San Juan Chamula, Larráinzar and Comitán.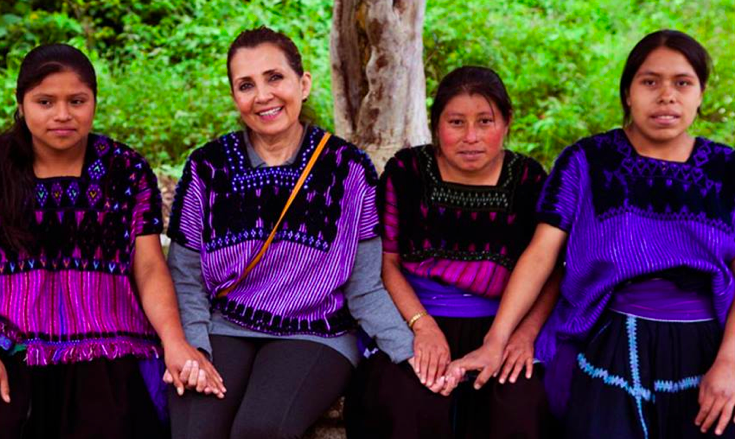 Mina Álvarez has two members, Mina and her daughter Mariana Trigos. Mariana has a Communications Degree, a Marketing Master, and is a key member in the company, since she's the Commercial Director and the manager of the store in Mexico City.
I had the chance of interviewing Mariana, who told me more about this amazing brand and the important contribution that they are doing to the craftswomen in Chiapas.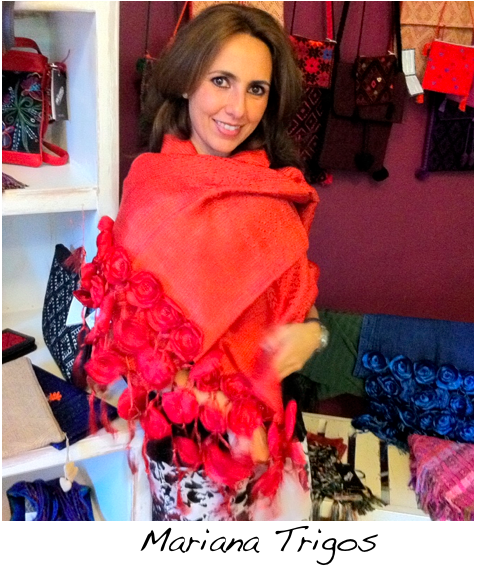 1. How does Mina Álvarez started?
Ten years ago, my mum fell in love with Chiapas textiles and started to used them in her creations but in a way that will exalt the work of the craftswomen, using leather and other high quality materials. With time, they have created a craftswomen group, especially in the communities of Zinacantan, San Juan Chamula, Larráinzar and Comitán.
The launch of the collection was in a gallery, but from there people get to knew their work and later they open their first store in San Cristobal de las Casas. The local government play a very important role in this launch because they supported the brand giving them the Chiapas Brand distinctive which only is given to those who produce materials 100% made in Chiapas. Ovidio Cortazar Ramos, Economics Secretary and Rómulo Farrera Escudero, President council of the Brand Chiapas assisted to the inauguration of the store.
2. Is this was a social project since the very beginning?
Yes, I believe it was a project that was social and creative, my mum loves all the work that make the craftswomen, and she has always loved helping people, specially this kind of work. She helps people, giving them support and buying there work through their community leaders that coordinate the others craftswomen.
3. How did you start the business relationship with the 65 craftswomen?
It was little by little that she met the craftswomen, she went to the Santo Domingo's market and she talked with them in their posts, convincing them to start the project. The natives take great care about their culture and their customs, but they let my mum to get into their lives and help them. It is so beautiful. Almost all of the craftswomen use back straps looms, everything that they do is textile work, it´s high quality work.
4. Are you going to help more craftswomen?
If they want to join us, we will be very happy, actually we will like to have the 65 women in a factory, but today it is not like that. Actually they don't need you, they already have a lot of work and they sell them in a fair price, it is not good to bargain, they charge what it worth, it's a lot of hard work.
5. How do you help these communities?
We help them buying their products, some times we buy their designs, some times we ask them to do certain job, my mum teach them some combinations and give them new ideas, they appreciate it and thank her for helping them. That's how we help them, it's not about giving them food, is about creating a working team.
We also create special catwalks for charity, we give them 20% of the earnings. Next one is going to be in Guadalajara at a Hospital called "La Esperanza", for children with cancer. We never do catwalks, for example we will never be in Fashion Week. This month we will be in Bazar Gilberto in the Hacienda de los Morales, a restaurant here in Mexico City.
6. Tell me about your products and which one is the best?
We have the following products:
Accessories: bags (30 models), suitcases, wallets, necklaces.
Women: shawl, coats, vests.
Men: watch boxes, wine boxes, wallets.
The star product is the flower shawl, then the bags and the coats.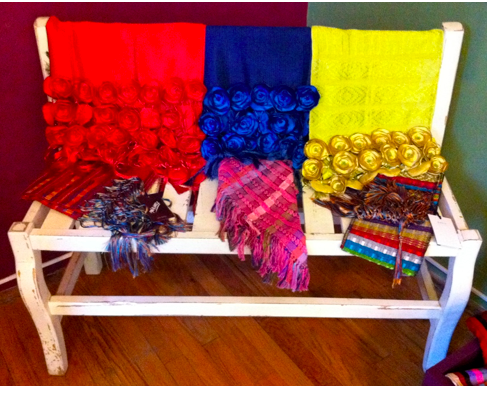 7. Everything is hand made? Which materials do you use?
Textil from Chiapas, back strap looms, hand paintwork, and the leather is from a Mexican sheep. All the materials have textile and had paintwork, which is made her in Mexico City.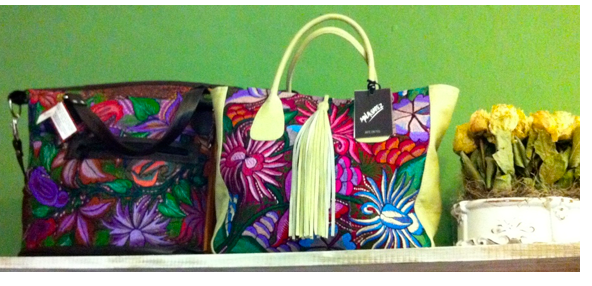 8. What is your main inspiration source?
My inspiration is on the soul, on the love for the textile from Chiapas, the colors the smell. The love of Mexican design, because my mum not only worked with craftswomen from Chiapas, she also worked with people form Oaxaca and Pakime (Chihuahua).
9. Why are you different from the competitors?
A lot of things, our product has soul, quality and design. A lot of people try to copy us, but they don't have our feeling that we have. We take care of the details; everything is handmade, high quality work.
Our product is for people that want and can pay for them, people who appreciate the textile work, although we are not expensive, in Fonart we are number one in sales. Our target is very wide, it's for all the pockets, for people who appreciate art, that's why we call our products, textile jewelry.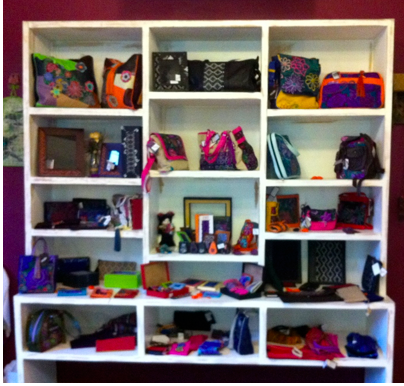 10. When did you open the store here in Mexico? And in Guanajuato?
We opened the store in Mexico City this year on July, and the one in Guanajuato is not ours, it's a gallery where we have been for a year, also in Yaruke San Miguel de Allende.
11. What kind of women is the one who buy your bags? What kind of personality?
The woman that buy my purses is the one that loves Mexican culture. She knows and appreciate quality products, because she can buy one expensive designer bag, or ours. What she will always have is a Mexican detail on her outfit. Price is not important for her.
12. Do you think your accessories are a reflex of your personality? Which one is the most important?
Yes, totally, our products are current, vanguardist and pieces of crafts, completely dynamic. The most important is the purse, secondly the necklace.
13. What do you think a woman should have on her purse?
Obviously a wallet (laughs), a mobile, the beauty bag, and I always carry a lot of things, the agenda, etc.
14. What is the ideal size of a purse?
For me the best is a big one, I have always liked big bags, here we have a lot of different sizes for all the tastes, we always take care in details, so even if it's a small bag you will be able to put all you need inside.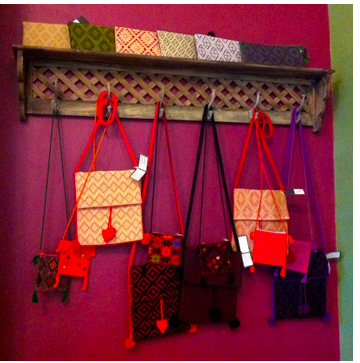 15. What are your future plans?
Keep opening stores, we already have two projects for this year: Palenque and Tlaquepaque. We want to keep growing and getting closer to people, because we know that our product have a heart and people have to feel them and touch them to be able to appreciate them. We need more stores, but we have to take care where to sell our products because it cannot be a warm place, because of the materials. We usually prefer to sell to local tourists because they appreciate more our work, foreigners always look for more autochthonic products, if they see a lot of design they just don't want to buy it. We sell in Fonart stores, and through them we are in many places. I am not really interested in internet sales, because I believe our products are to be appreciated in stores, so customers can feel them.
And before we finish …
How do you define the style in a woman? Which things define it?
She has to be current, vanguardist, with a strong emotional intelligence, a profesional, that's how I see women. She has to appreciate art, life, colores, smells and she has to be sensitive and of course a hard worker, if not it will be difficult to survive. She has to be independent and, I don't want to be feminist but I really believe we have to be creative.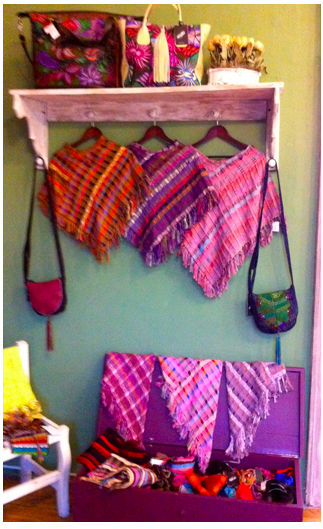 Can you give an advice to all the entrepreneurs that are just starting?
First, and I don't want to sound trite, but they have to believe in their dream, they have to work to make them true. We have a lot of talent in Mexico, we are rich in everything, so we need to make it a reality. They have to believe in the Mexican design, in their own design. They should put very high the Mexican culture or whatever they are doing, textile, goldsmith, etc. They have to be very proud of being Mexican, that has been great part of the success of our brand.
As you can see, Mina and Mariana are two amazing entrepreneur women that want to put Mexico in a very high level through their designs, colors, textures and above all putting their hearts in all they do.
See you soon!
Fabiola