My dear readers,
First of all, I want to apologize for being away for so long, almost a year, but I have suffer big losses, phasing renovations and having a lot …a lot of pain … so, as you can imagine, I had to put all me energy to recover, and that's why I was away for so long, I am truly sorry.
Among the things that happened to me, I had to change some of the most important things of my life, and fight to recover physically and emotionally.
For 7 months I couldn't walk, it started with something that was not so complex, but at the end I had surgery in both of my knees, I had to use wheel chair, crunches and a cane … I had months of physical therapy to recover my mobility and my life, here is how I was after the surgery: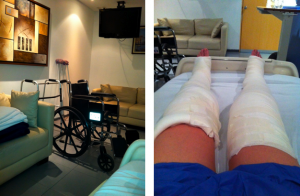 I couldn't move, not even for the basics like going to the bathroom … but thanks to Dr. Zarur my magic doctor, and Hugo my physical therapist, who stand by me all the way … I was able to walk a month after the surgery and little, by little recover my independence …
Parallel to all that, I move back to Mexico, my home country, but I stayed with my parents, just a while ago I could finally move to my apartment and start to be the person I used to be.
Among the losses, I lost one very important person of my life, he smash my heart in the floor, in the worst possible way, it has been very painful too … but with that, I open my eyes and realized that is time to start all over again and renew myself.
They say, that when you hit bottom, irremediably you come out and something very good is expecting for you, so … here I am, open minded, hopping for the best, and ready to a fresh start.
But, even though I felt that I had to tell you all these … enough of my tragedies!!! Let's talk about better things.
As you can see, the renovation started here, with a full new image of Manequi, we have new logo, and new pages, as you can see, now Manequi has a blog, a section for Image Consultant Services (for you and for your company) and the best is yet to come, soon we will have a store full of fun and good things.
Additional to all this, I have a new partner. My friend Roberto González, will be from now on, my accomplice in this adventure. He is a great friend of mine, an expert publicist and a big fashion addict as I am. So, form now on, you will be reading him about mainly fashion for men. I think it is good to have a balance, we need it, some fashion advice for men are always welcome for our boyfriends, husbands, brother or parents … don't you think?

Then, welcome to the whole new Manequi, full of surprises, energy and I promise to make up the time that I abandoned you with a lot, a lot of fashion.
Stay tuned …
Fabiola
This post is also available in: Spanish