I know we are on April and spring started a month ago, but maybe you still wondering what to wear and which are the trends for the season because you might want to go shopping … well here is what you should focus on:
The main trends for 2013 spring are:
1. Flowers
The floral print is applied in every piece but especially on the bottoms and the main trend are the pants. It is important to remember always your body type, because something could be a trend, but what you should always look for is that the trend flatters your figure. So, if you have wide hips, this trend is not suggested for since the print will make you look wider, especially if the trousers are skinny, because skinny pants are not for this type of body. But relax; you can use flowers in many other ways, no matter your body type, because the trend is to use floral prints in dresses, blouses or skirts. Here are some examples: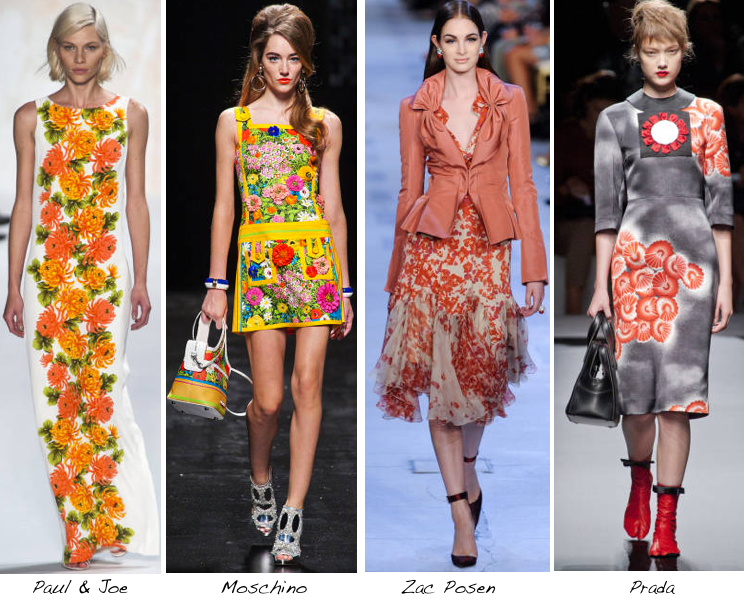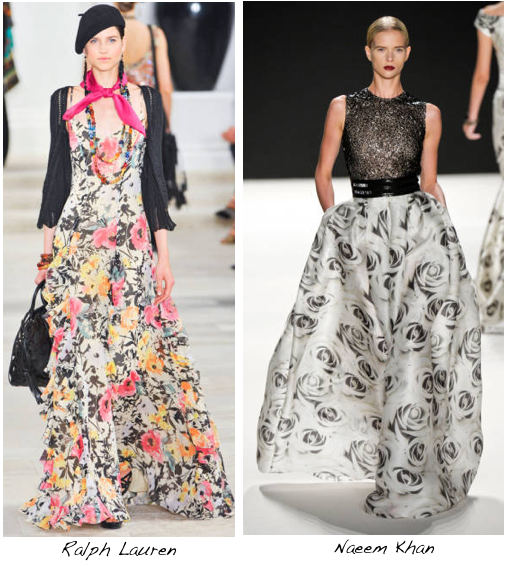 2. Lace
This season the lace is used in many different ways, for skirts, dresses, blouses and even trousers. As you can see, some designers as Marchesa, used laces and flowers. That is very feminine. When using transparencies the key is to know that if our underwear supposed to be seen, it has to be as wonderful as the clothes that we have above them. If it happens to be your panty what is shown, always use a complete one, like a boyshort panty. See the example of the Dolce Gabbana dress.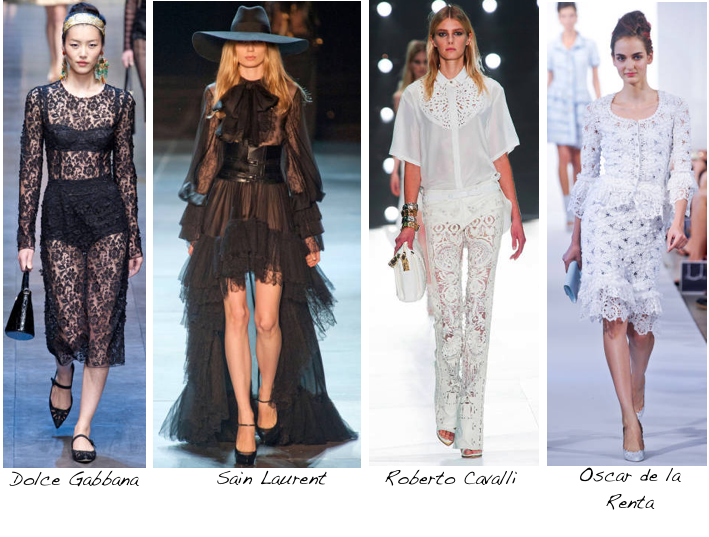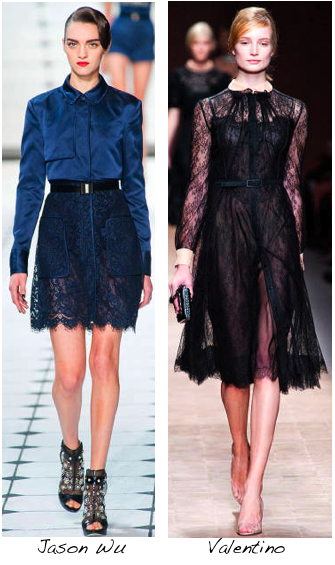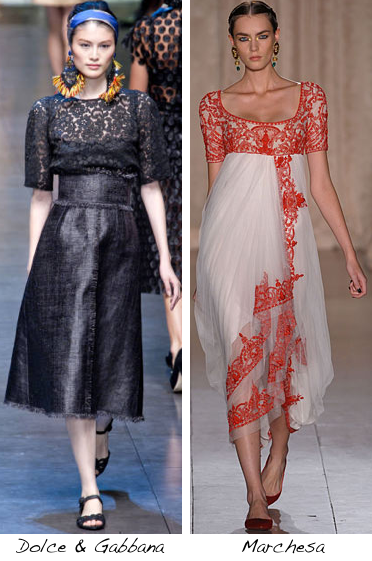 3. Stripes and checkers
It's incredible the variety of ways that designers used to apply this kind of print, and as you can see it also apply for dresses, trousers, skirts and blouses. Using stripes, some rules should apply, because depending on the side, width and amount of stripes; your figure could be look wider and not so flattering.
Checkers are another trend that exploit especially with Louis Vuitton collection. As you can see they used it in every single piece and with laces, or solid colors.
It's important to consider that when using this kind of print, the accessories have to be discrete, keep that on mind.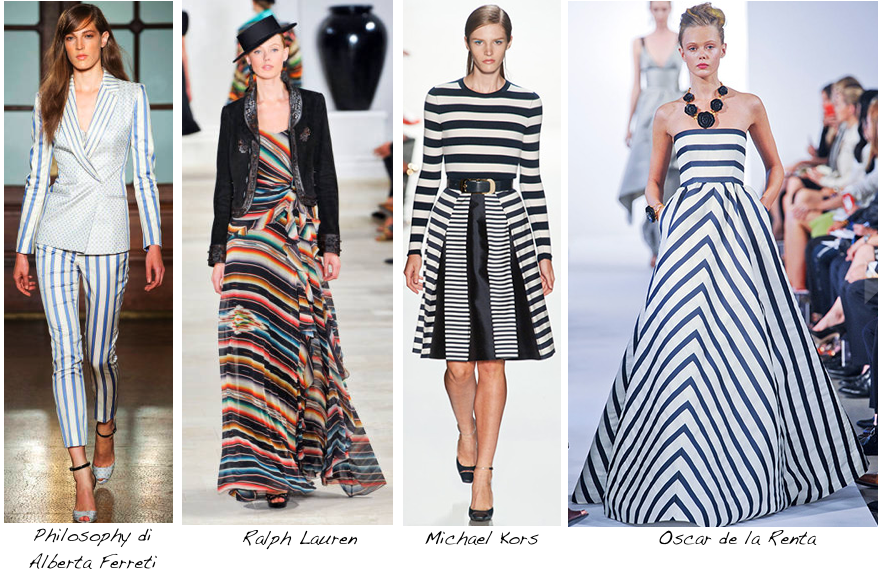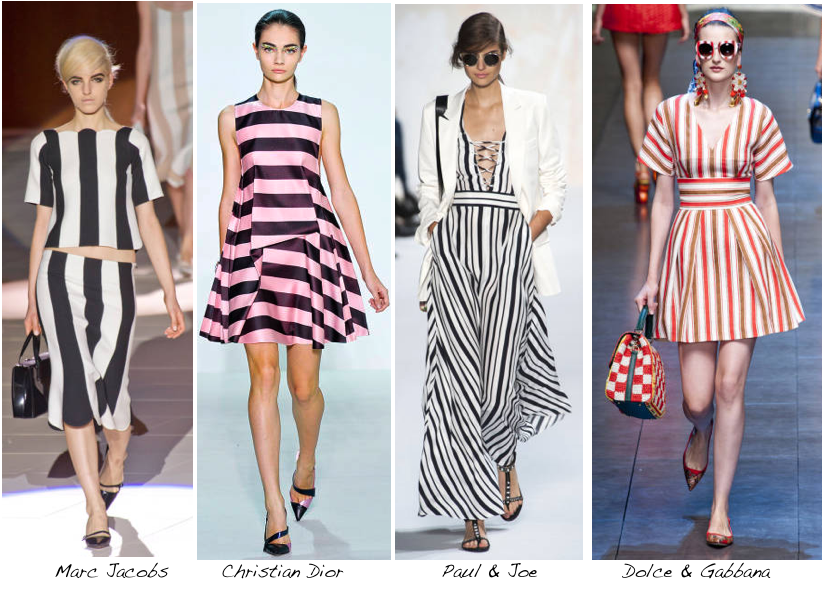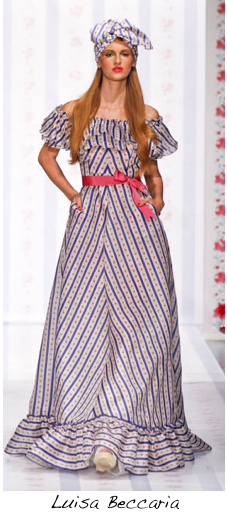 4. Crop top (90's style)
This trend is similar of what we used on the 90's but with a little twist, this time designers are not really showing the whole belly, it's more focused on showing a little part that is just at the ribs height, like a high-waisted pants or skirts.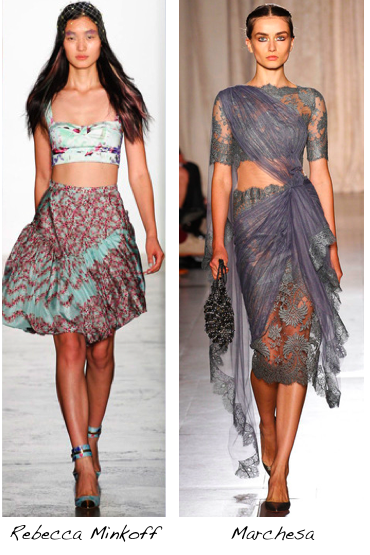 Eventhough there are some examples that shows the whole belly: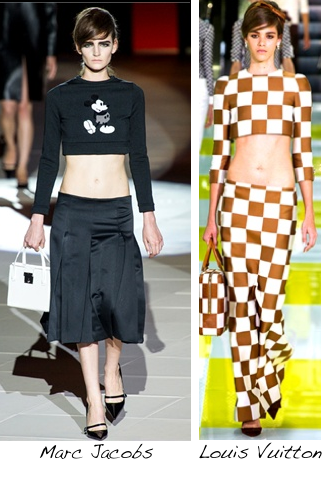 The trick using this trend is to be sure that what we show is not fat, it is important to have a flat belly because the part of the skin that you shows is like another accessory of your look … so my advice is, that if you have even a little fat … do not us a crop top … there is no need, don't you think?
So, you're still on time to go shopping and get some of the season trends. On my next post I will talk about the trends for all of you who lives on the south cone of the world and are enjoying autumn season.
See you soon!
Fabiola
This post is also available in: Spanish