In my continuous search of quality and original designs, I found Musibatty, another store in Bazar Fusión, that is just impossible to ignore, as I passed by was trapped with the designs, the quality and specially the fact that the owner and designer is the one who is in charge of the store, or was in charge of it … because she just closed it.
Jennifer Musi, is the owner and creator of Musibatty, since her twenties she had been in a continuous search of her identity and vocation, that she found through the yoga, meditation and her trips in many countries. By knowing different cultures, and after five years living abroad, Jennifer came back to Mexico with an enormous inspiration which pushed her to start her own project doing what she loves: create and inspire others.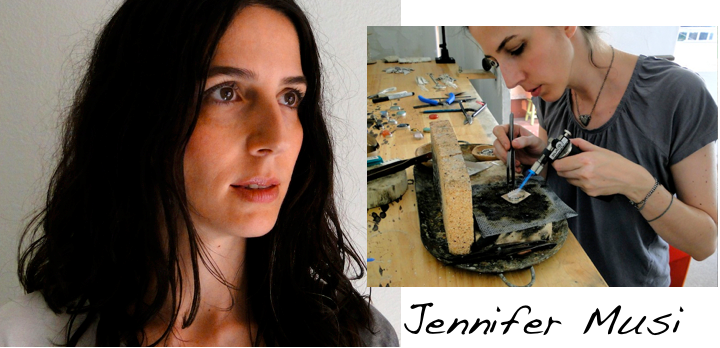 I had the opportunity of having and interview with this artist of miniature sculptures:
1. How did you started Musibatty? Why this name?
I started to make jewelry since I was four years old. I studied art and crafts close to my place at la Condesa, and I learnt a lot of the craftwear technique for jewelry. After a year, I started to sell some things, and I sold my first collection to Bazar Fusión. I can say that was the moment that I started earning money with my jewelry. The name of Musibatty is in honor of my parents. Musi is the last name of my dad, who is Mexican and Lebanese, and Batty is the last name of my mum, who is English. My dad is and architect and my mum is a textile artist, so I learnt to create a lot of creative things since my childhood. My aesthetic sense is because of them, I grew up in the woods outside Mexico, I lived in wood houses, that my dad built and surrounded by a colorful environment with all the craftwork of my mum that used to dry in the sun her work.
2. For you, life is a wonderful moment that inspire you … tell us more about this concept? How is your creative proposal as an artist?
My concept of life comes from my experience in meditation, where I perceive things from a different way, in a different consciousness level, where I enjoy every moment just the way it is, with all its perfection, doesn't matter if it's a moment of creation or destruction. For me, this whole experience contributes to my creativity, and adds vitality to my work.

3. You consider your work as miniature sculptures, what do you want to create in every piece? Are all unique pieces?
I started like a painter, then a ceramic sculptor and now I see my jewelry as, compositions in 3D. In some way I am doing magic with the materials that I use and I am creating something from nothing. This is the most direct way of create what I have in my imagination. I really don't care much about trends and fashion, I do care about shapes. The fact that people can use and enjoy my jewelry is like an energy amulet that inspire me to create more pieces. I used to make unique pieces, at the beginning, then I started doing more series, cut I would like to go back to create unique pieces.
4. What inspires you?
The silence, the imagination, the game, enthusiasm, the fact that I have a reall connection with my ideas. Mexico inspire me too. After living in France, Canada, USA and the South part of Asia, I really appreciate more Mexico, and the Mexicans. We are very positive people, entrepreneurs and we have a lot of hart. We are a live culture, and we project that.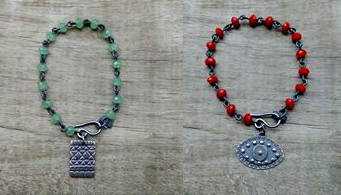 5. Tell me about the production process, how long does it take? Including the creative process.
First I observe, my eyes can't stop capturing images, the view is the sense that I more appreciate and enjoy. After that I draw what I saw, and I keep those draws so I don't forget what I did, because it is a constant flow of ideas. Then I follow my instincts, if one day I feel like work in a ring with silver wire, then I go to check my notebooks to see ideas that I draw. Or maybe I just start playing with the materials to see what comes out. Some pieces are more complicated than others. I usually create a piece in one day, my curiosity about the final result is bigger than the time that I can spend working so I usually work quite fast. My technique has limitations, I know how to weld, forging, engrave and wax carving. I have few options to work so I have to be more creative.
6. From all your designs, which piece is your favorite? I love rings, but for you, in which piece do you project more your style? Which one sells more?
The do rings, more than anything else. I work with symmetric shapes, maybe that's why, because those shapes in a ring are very pretty, it's a frontal and fixed design. Maybe, I also prefer rings because is something that you wear in your hands, and that part of the body is the one that creates my designs, my way to communicate. It is also the most sold piece.

7. Apart from silver, which other material is key to your designs and why?
In my last collection I worked with bronze, it`s a material that you can use to cast, and I wanted to make an experiment with a metal that has a warm tone. In my next design I would like to use brass with darkened silver. The stones are also very attractive, especially transparent. I believe the stones are powerful and connect me to the earth. I am really amazed about the process of creations of each stone in nature; each one is a piece of history. My dream is to go to Arizona to the lapidary fair in Arizona because you can find unique stones.

8. I know that you are closing your store in Bazar Fusión and now you are moving to the online sales. So far, how has been your experience in the online world? Which advantages do you see? Are your clients Mexicans?
I opened my store in a portal named Etsy, where people for all over the world sells craftwork, is like Bazar Fusión online. There are over 2 million of users so it was not that easy to find my products, but still I sold my pieces. I used to send emails to the people I meet in Bazar Fusión and I am stillin contact with them. I also use Facebook, Instagram and Twitter to share my work, my life and my creative process helping me to communicate with my costumers. Few months ago I started selling my pieces through social networks, that's why I closed my store. I sell more pieces on line, and it's more my personality to sell like this. I sell a lot in Mexico , but I also send things to Australia, Germany, Canada, Spain, UK, USA and Venezuela. I believe the majority of my clients are Mexicans.
9. How is the woman that uses your jewelry?
I have never sold in stores, always one to one, so I usually meet my customers, which I believe had been a very enriching gift from my work. My clients are men and women that follows their instincts, they know what they want and they don't hesitate. They don't wait for others opinions to decide, they are people that follows their heart.
10. If you have to decide which accessory is a MUST for a women, which will be and why?
Happiness. When we are happy we enlight everything around us, we inspire, ennoble an opten the world of possibilities. Being happy is the most important gift that we can give ourselves (regardless of gender!). For mi, it has become a priority in my life.
11. One of the phrases that I love the most in your webpage, is when you refer to the fact that you destroy a lot of what you create because not everything works, you recycle your pieces, sometimes "your mistakes are your best work". Tell about this.
I am a perfectionist. I thank when things just come out like I planned, because then it opens the possibility of something new. Those "mistakes" are not really mistakes, those are moments where I let go a little control and the pieces just flow the way it has to be. When I let go, I see that everything is better than I ever imagine.

12. What's in the future of Musibatty?
Yesterday I closed my store, so now I will go back to the solitude of my studio. I want to move to a bigger place, with view to a yard with a tree, and while I work, listen to my mantras and audio book. I also want to share my creative process in a blog, so I can inspire others to follow their dreams and see how things could really happen, tell them that they can live a life just the way they want, if they really work to get it.
And before we finish …
How do you define the style in a woman? Which things define it?
A woman style is in her. We all are kind, strong, beautiful, gracious and intelligent. I believe that knowing that we are alive, complete and that we are unique is what matters. Regarding fashion, I have a phrase from Michael Kors in my closet that says: style is knowing yourself and know what works better on you.
Can you give an advice to all the entrepreneurs that are just starting?
For me the most important thing is to find your purpose in life. Mine is to do the best jewelry that the world have ever seen. This purpose is what directs my decisions and encourages me every day. My purpose comes from my escence and I give all my love to it. I feel that the others perceive it and that why they connect with my work. The more personal you do your job, the more universal will be your reach.
Something else?
Since your readers are mainly women, I will like to share one last idea related to beauty. When I turned 40 few months ago, I decided to enjoy my body just the way it is from now on. So I welcome to white hair, wrinkles, skin spots, and I decide that will not follow the beauty stereotype that the media sell. To inspire me, I made a search and I found Cindy Joseph, a sixty something model that decided to get older the way it has to be, naturally. Her philosophy stuck in my heart: "It's time that every women generation accept and take her age with proud, since our face projects our personal and unique story". As an artist, I just love the diversity in this world and I wish it will get better in time with the unique and personal vision of each individual that celebrates their history, their body and their authentic and unique point of view.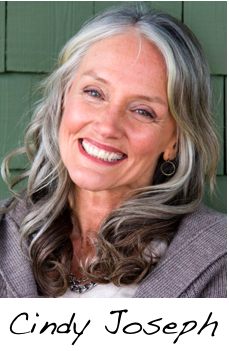 As you can see, Musibatty is a brand that we can't miss. I specially loved her last comment about beauty, and acceptance of our age with proud, I totally agree!! Although I really hate white hair …maybe one day … but remember. Every wrinkle tells a story of your life, so … let's keep collecting stories!!!
See you soon!
Fabiola
This post is also available in: Spanish