During my last visit to Mexico, I met a very interesting woman and I decided to interview her for you.
Her name is Maribel Grau, she is Venezuelan, a model since she was 19 years old and a lawyer. After being a model for a while, she decided to dedicate her career to be an Image Consultant. But not any Image Consultant, Maribel become the consultant of many international beauty contests assesing Misses of different countries  and some of them where elected Miss Universe.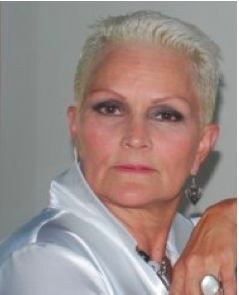 During her life Maribel has lived in different countries where she did many seminars as Protocol and Etiquette, Personal shopper, oenology, Wardrobe and Cosmetology (Loreal – France and Revlon – New York).
Currently she lives in Mexico for personal reasons (family), so far she has participated in 24 runways and she created her own Consulting Image Company "Maribel Grau Image consulting and runway school". She opened her company with her friend and partner Patricia Alvarado who is an expert in the fashion environment and Erika Delgado who is her assistant.
As you can see, Maribel has a very interesting life and that's why I couldn't resist to interview her and ask her to share with us a little of her more than 22 years of experience.
1. How did you start as an Image Consultant?
MG: It was with out looking for it. One of my friends asked me to help her for her wedding and from that event, some other persons hired me and then I started to work. Some of the people that hired me were President candidates for Venezuela.
2. How did you start to work as an image consultant in beauty contests?
MG: I knew some people from the organization group and they asked me to suggest some participants. I send some girls to the casting and almost 90% of them where elected for the contest. After that they hired me as a consultant.
3.Which was the most difficult decision that you had to make in your career?
MG: Since my job required a lot of traveling I had to leave my family very often and that was very difficult. We tried to organize our lives and at the end we got used to it, but it was tough.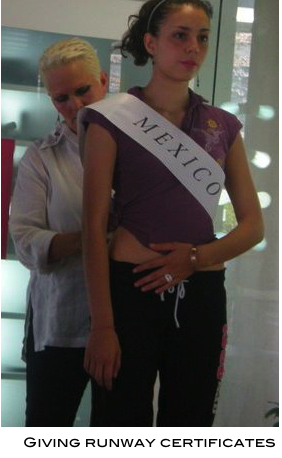 4. In your opinion, which are the most common mistakes that we do when choosing our clothes?
MG: I think the worst mistake is to not know your own body. It is important to know what can we wear according to our body. There are many women who don't dress according to their age. Also if you don't wear the right clothes, you can look shorter or fatter than what you really are. It's also important to choose what you're going to wear with out rush, thinking in your combinations so you choose the right outfit.
5. What is the most important thing that we have to consider to get the perfect look?
MG: The first thing is to know your self, forget about fashion, it's not for everyone. The clothes that we choose are very important to build our style and personality. It is not necessary to wear expensive clothes, if you choose the proper clothes for your body and personality you are going to look great and you will feel fine. It is important that you take your time choosing your outfit every day, if you do it in a hurry you will have to pay the price of it.
6. Is the weight important to look good?
MG: OF COURSE!!! Please!! I don't want to offend anyone, but it is always better to have a slim figure. Nevertheless, there are a lot of tricks to help us to look thinner. It is not complicated.
Tricks … Like what?
MG: For example you look thinner if you use vertical stripes. Or if you have a big breast, it is better to use a "V" neck it will decrease the volume in that area, and don't use big accessories in that area. Also we have to be very careful with accessories, if you are over your weight, avoid wide belts or low-rise pants (if you are size 6 to 9). You can also use contrasting colors (not all in the same tone), avoid flowers, cubes ad big figures all of that will add volume to your body.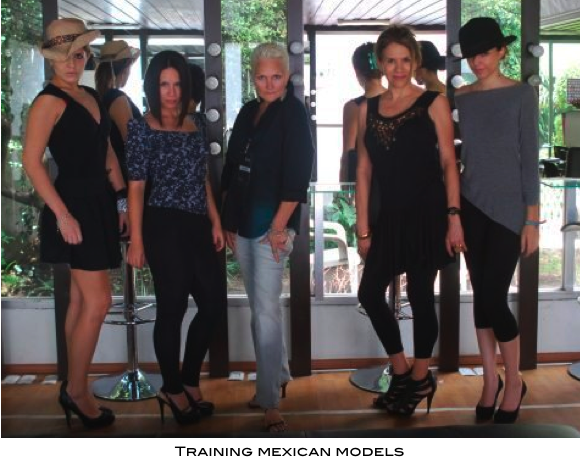 7. What do you think about plastic surgery, botox and all those treatments?
MG: MARVELOUS!! But really marvelous, great, big hurry for surgery!!! It is always important to choose a good surgeon. Currently, many countries are using plastic surgery for their Misses. It is very common practice.
Don't you think that makes quite fake the contest if all the Misses had esthetic surgery?
MG: Not really because we are not changing them completely just little retouch, always a little help is good. All the countries use plastic surgery; only Asia and Africa are out of it. I have never did anything on myself, I am too afraid but I may do something some day … he he …
(oh no! And I thought all the Misses where natural beauties!!)
8. It is important to be a fashion victim to look good?
MG: Not really. Fashion is not for everyone. There is a phrase: "de la moda lo que te acomoda" (use from fashion what makes you feel comfortable, it is better in Spanish!). I've seen many women that just don't follow fashion and they look great. I think is more a matter of personality "a self confident woman will always be in fashion!" (I love this phrase!) If a woman knows herself enough to know what is good for her body, she will always look good. There is no need to copy from others. For example I know I cannot use a tinny bikini, and I will never use it.
9. In your experience, why is that a women don't look good?
MG: Usually is because they don't know their selves and they don't know what to use. They may use colors that don't match their face, or exaggerated make up during the day, or maybe they are just trying to follow fashion but they don't really look their selves in a mirror. There is no excuse to not look good always, is usually a lack of time.
10. We know that now you are living in Mexico City, what are your futures plans?
MG: Right know I am working in my own company of Image Consulting. I am also helping some Image Consultant agencies as a teacher, which had gave me a perfect idea of how is the Mexican woman. I have to tell you, Mexican woman are very beautiful! They just don't have a lot of time to take care of their selves. They know everything about fashion, make up, runways, everything! Their only problem is that 90% of them don't know how to walk in high heals, but I will try to help them on that, he he …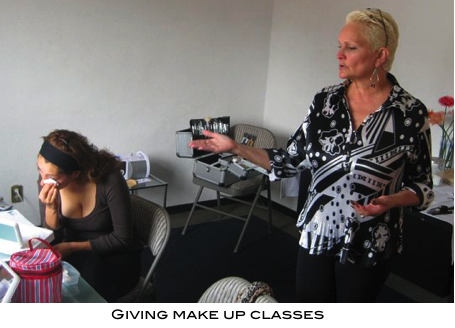 And before we finished …
How do you define the style in a woman? Which things define it?
MG: Personality defines a style in a woman. If you are shy your clothes will say that, if your personality is out there you will wear anything you want. Personality is based on your self-steam. For example, if a person arrives alone to an event but she feels that she looks great! Her attitude will show that. She will talk with every body because she knows that she looks great. For example in my case, my hair is part of my style and also my body language.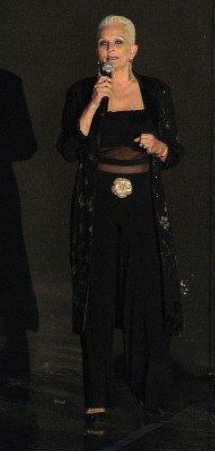 Can you give an advice to all the entrepreneurs that are just starting?
MG: uffff!!! There are a lot of competitors!!! Actually, the other women, your own clients are the worst competitors. The thing is that now a day they are able to look in Internet anything that they need and then, they will come to us if they don't find what they are looking for. So, is our obligation to be the best. It is also important to look good so you are coherent with what you offer (Image Consultant), and your clients will trust you.
So, what do you think? It was interesting to learn a little more about beauty contests no? The only disappointing thing for me was to learn about the fact that almost all the Misses have plastic surgery. But I loved to interviewed Maribel and learn a little of all her experiences. If you like to have a consultancy with her, please let me know and I will contact you with her.
See you soon!
Fabiola
This post is also available in: Spanish