Today is Valentine's Day, in some countries is the day to celebrate love and friendship, but in others (like in Argentina) it's only to celebrate love, which makes this day especially corny. I think it could be a good excuse to show to your friends and your "significant other" what you feel and how important are them to you, but still I think is quite corny to use so many hearts and flowers.
I have always been impressed about the enormous flower consumption that exists for this day. When I lived in NY I had to commute to Rye in train, and it was amazing to see every Valentine's day how Grand Central became a flower place with all those people waiting to receive their love ones with a bouquet in their hand.
Today at home I saw a very cute example of how even after 40 years of marriage love still on and little details still matter. I am talking about my parents, today my dad brought flowers to my mum and it was very inspirational and cute … yeah, yeah … I know it could be corny too, but since they are my parents I prefer to call it, cute!
Since we are talking about my parents, today I decided to give you some advice about how to dress if you are over 65 years of age, because there is always a way to keep your style, look great and full of youth.
First we are going to talk about the fashion for woman. Every woman after 65 years of age suddenly find that her tummy is more rounded, like a circle. If they used to have a waist, they will keep it, but in general their lower body will look rounded and it will make difficult to keep using their clothes. The trick is to use different kind of clothes that help to balance their body and create the "sand watch" shape again. As I have always told you, everything is about proportions.
Another change that happens with age is that your body starts to be less firm, no matter if you exercise or not, suddenly your body is not the same and that is why it is important to not use tight clothes because that will emphasize the "fluffy" parts of the body.
One of the best brands that exist in the market for woman is an American one called "Talbot", this brand understands perfectly the woman body and makes pants with elastic waist (only on the sides or on the back) which helps to fit in almost every body no matter how "rounded" it is.
Taking care of your hair, nails and skin especially at this age, will help every woman to look younger, healthy and sexy. Shoes are another important thing to consider because it is very common to think that if we don't use high heels the shoes are horrible and not sexy, but when you are over 65 it becomes more important to have a firm and comfy shoe than being sexy. Nevertheless you can always find pretty options for every occasion and keep being feminine. Try the brand "Flexi" it is always a good option.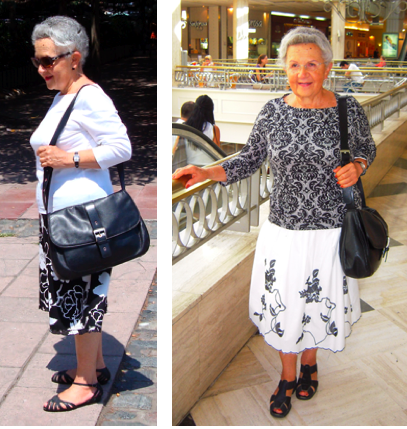 Men gets old in a different way, their body also create a rounded tummy that is even more notorious if they don't have a big ass (which is very common). That's why when men get older is very common to see them using the pants with the belt that looks more as a necklace. The easier way to fix this is to use the right size according to your new body, don't keep using your old clothes. Usually they will need a smaller size, but all depends on their body, they have to go and try them.
For men the elastic pants are not recommended because that will make them look bigger and too casual. The best thing is to keep using the pants you used to wear but just adjust them to your new body size so they will fit you. Maybe you will still need to use them a little higher than before but not in your chest. One trick to create a horizontal balance is to use little loose your shirt don't put it all inside your pants because your upper part will look shorter. Another way is to use vest or sweaters that are lower than the waistline of your pants, that way your body will look proportioned.
Shoes are also important for men, they have to be good, firm (avoid the wooden sole), and especially they have to be comfortable, and so their feet will not suffer.
Here are some examples of outfits, I am using real models, so real that they are my parents.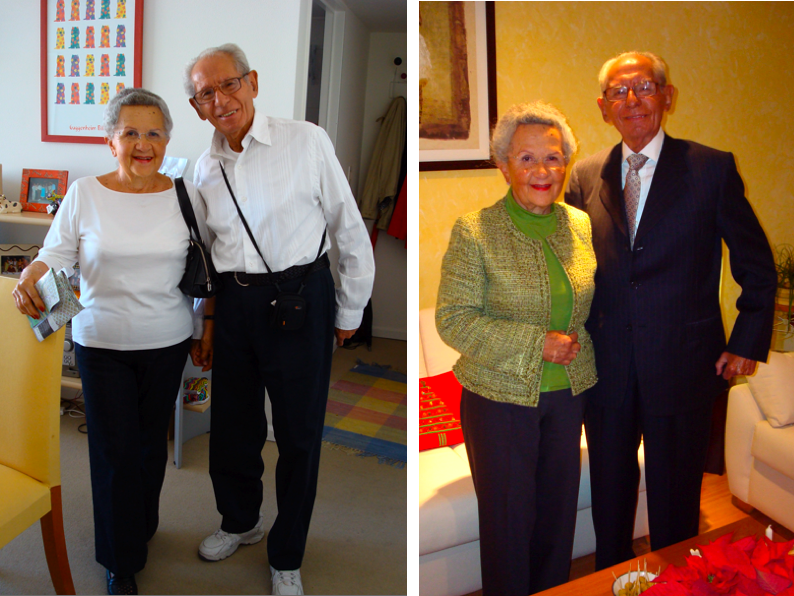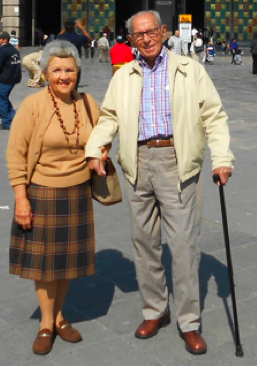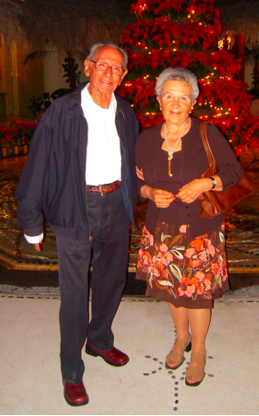 As you can see it is not difficult to keep the style at any age, if you use clothes that fit your body, with colorful designs and modern cuts, you could look younger, happier and alive.
I know that some of you are far from being 65, or maybe you think that you cannot give your opinion to the way your parents or your grandparents dress, but believe me … they could need help and they will appreciate if you help them. It is very common at this age to loose the initiative to be fashion or to go shopping and we can help them to look nice every day, even if they stay in their home every day.
If you have any doubt please let me know and I will help you.
And … Happy Valentine's Day!!!
See you soon!
Fabiola
This post is also available in: Spanish