Yesterday I went to the catwalk of Benito Fernández (a very famous designer here in Argentina), he was celebrating his 25th anniversary as a designer and also he presented his new collection "Virgins 2012". The collection was nice, but I think it is not very usable since all of it is 100% seeing through, which in real life is not that easy to use.
I was going to use in this post all the information of what I saw yesterday, but I changed my mind after what happened at the end of the show. When I was going out from the hotel were the show took place, there was a group of people, shouting, and showing big signs saying that Benito is exploiting his workers because he doesn't hire them legally and he just have them working in clandestine places and in very bad conditions. It was quite shocking to pass from the glamour to the reality!
The worst thing is that accordingly to this article from "La Voz" the information is true, and not only he does it, also two of the most important Argentinean designers are exploiting people …
So … instead of jump to another topic, I decided to change my view and look for some designer who support his employees and care about them … and I found Martin Churba, the designer of the brand Tramando.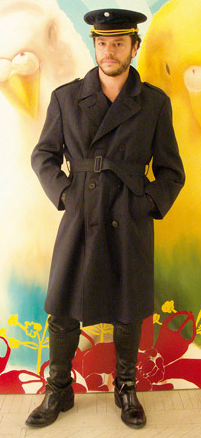 For those of you who have no idea who is he, here is a summary of his achievements. Churba created a brand called "Trosman" with Jessica Trosman and both make a big impact during the 90´s. In 2002, he split from Trosman and he created a brand on his own, "Tramando" that is based in strategic design and experimentation. His offices are in Recoleta (a fancy area here in Buenos Aires) in a huge old house that holds his factory and his main store to the public.
In 2004, he started a project with the Cooperative "La Juanita" in one of the poorest regions here in Buenos Aires called "La Matanza". The objective of the project was to reactivate some machines, so unemployed people can start working again sewing clothes. Churba worked with them to see what can they do, and the decision was to design white coats, that end up being everything but white. They created amazing designs that became part of the Buenos Aires Fashion week of that year and then they keep designing many clothes that had been exported to Japan.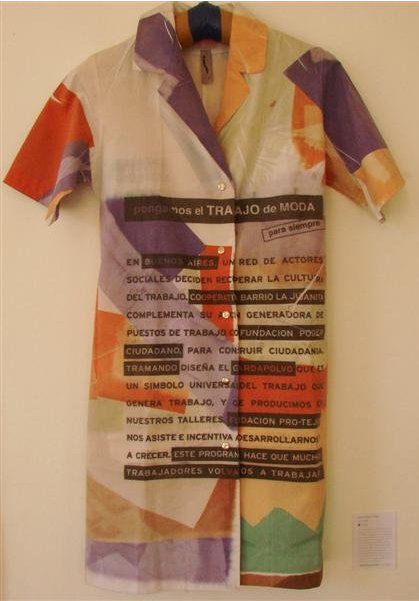 At the same time, Churba started working a group from Jujuy (a region of the North of Argentina), called the weavers from "La Red Puna" with whom he created innovative designs that are also exported to different countries.
The most important part of all the work that Churba does, is that he is not only giving jobs to many people, he is also paying even more than other designers (they say that they receive 5 times more). Churba believes that creativity is not related to socioeconomic level, it all depends of the personal abilities and the will to create that each individual has.
Today the designers of the cooperative are working in the creation of their own brand, of course with Churbas' support.
As you can see, not every designer in this country is like Benito and company, there are some like Churba that really help others through work, dedication and of course a lot of creativity.
See you soon!
Fabiola
This post is also available in: Spanish