May 3rd, 2013
A good friend is pregnant with almost 4 months, and she asked me to write about this especially beautiful stage of life, so here I am. I've already wrote something about it on 2011, but fashion evolve and now there are more interesting things to use having a tummy (pregnancy tummy ok? Ha ha ).
Since my friend lives in Madrid I will focus the store examples in that city, so all of my readers that live on that side of the world can go shopping.
As I mentioned before, being pregnant doesn't mean to be sick, so there's no excuse to have a sloppy look. You have to still taking care of your hair, nails, and skin, remember, your style should remain even with your new body and your wonderful belly, it's time to enjoy it! It is important to take care of yourself, during the pregnancy and after it.
We all have different bodies; I hope you already know the rules for your specific body type, because during this stage you have to continue following those rules. Your body structure will remain the same even if you put on weight. Always check your clothes in the mirror before going out, because some things will look better than others.
For example, H&M has a "pre-mum" department with an interesting variety of styles, shirts with a regular shape, and others with empire line. If you are one of the lucky girls who from behind look like if they are not pregnant, then the regular shape that is straighter is the one for you.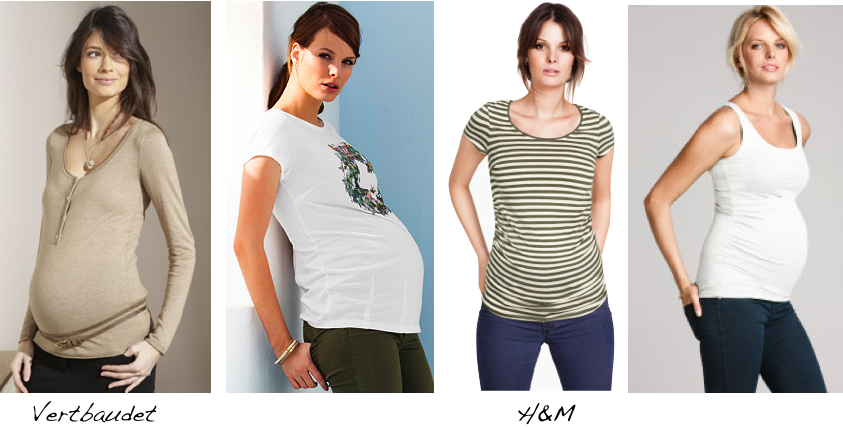 But if you are like the whole majority of pregnant women who put on more weight than expected, and you have some love handles … relax and enjoy! But it will be better for you to use the empire line dresses and shirts, it will hide the love handles and it will be more flattering for your figure.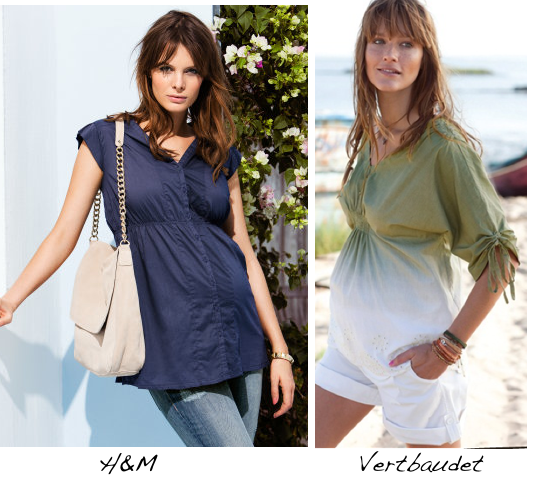 Regarding the pants that you should use, do not keep trying to fit in your old jeans, do not use tricks to enlarge them so the button can close, just put them on your closet and try some of these jeans that I am showing you here.
As you can see they have the special part to hold your belly, but it also looks normal on bottom. It is very important to keep considering the right cut for your body type. If you have wide hips, forget about the leggings and go with the straight cut, or the boot cut. And another tip … even after you have your baby, the tight jeans are not for you.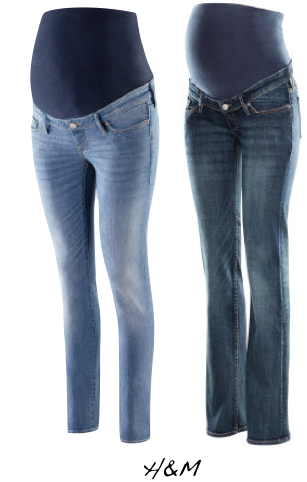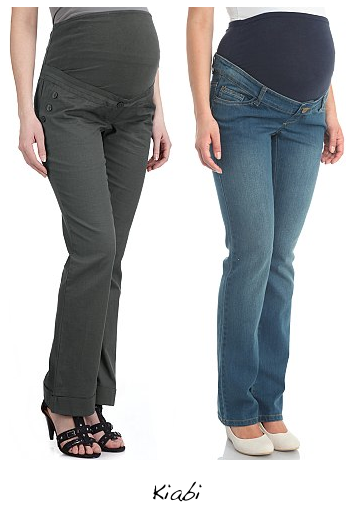 The best for your situation will be to use the "A" shape, try to use dresses and skirt with this shape. If you are used to straight skirts (pencil type) you might be able to use something similar but again, be careful with your new body, the "A" shape will be always more flattering. Avoid the clothes with a boxy shape because that will not separate your bust from your belly and you will look as a sack.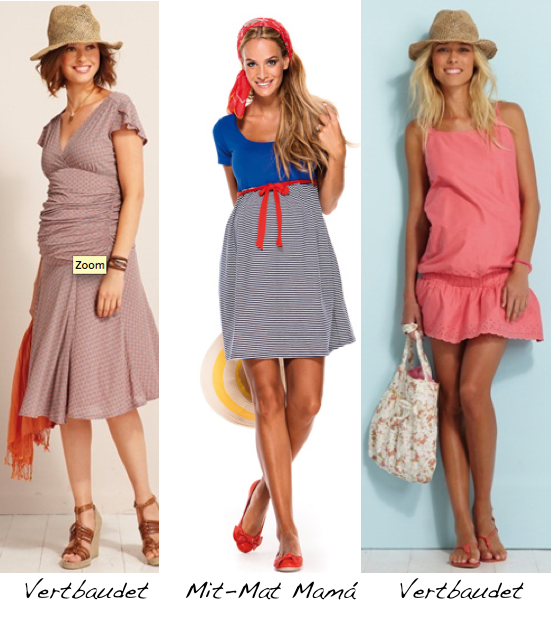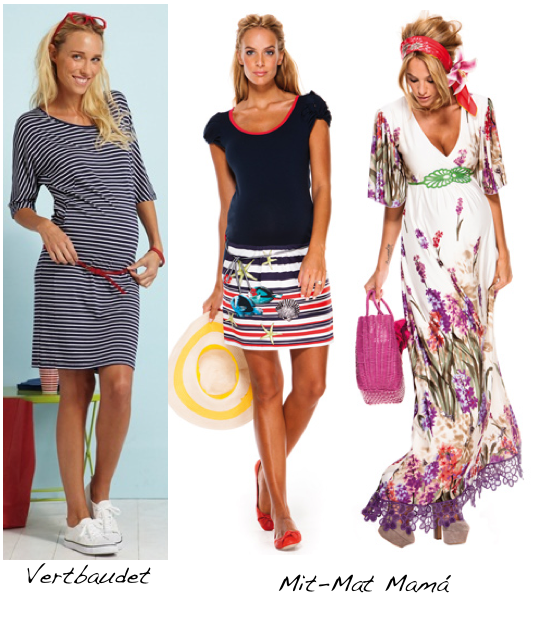 Another kind of neckline that is very flattering, is this one with small folds, it helps the bust shape avoiding the square look that I was talking before. Here some examples in shirts and dresses.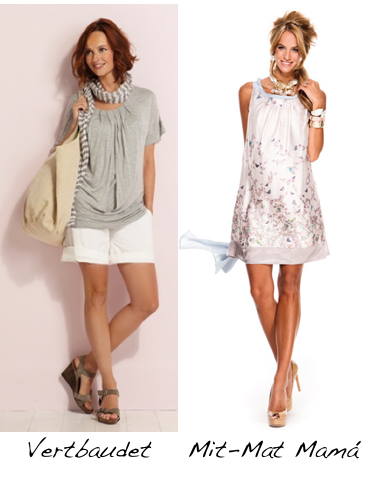 And it happens to be, that just now with this hot spring and the summer soon to come, you have huge belly, and I am sure you will want to go to the beach and wear a swimming suit. There are a lot of people that wears a bikini, but again … all depends on your body. If you happen to be a pregnant woman with out love handles or any extra fat on your body, the bikini is for you. If you are a chubbier pregnant happy woman, then the full swimming suit is your option. But that doesn't mean it has to be bored, look at this examples.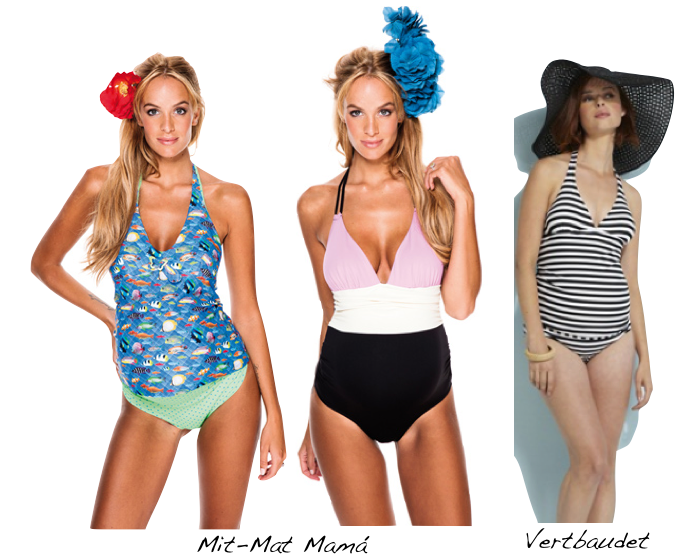 Remember to use always a lot of sun block because especially in this stage of your life, with the hormones so alive, there is very common to have skin patches in your face.
So, enjoy your pregnancy and keep your style all the way.
See you soon!
Fabiola