I am sure that you thought after reading the title, that finally you will be able to eat what ever you like and look beautiful! … but I am sorry to disappoint you, I am talking about the pregnancy tummy.
I got the inspiration because yesterday we went to the hospital to see the new baby of one of my boyfriend friends, then I received pictures of the new daughter of one of my NY friends and here I am surrounded of pregnant women. ( I think there is something in the air … )
First of all, being pregnant is not an excuse to get fat with no limit or to look bad. You have to take care of your weight because is healthier for you and your baby (ideally you just have to put on 9 kg during the pregnancy), and because after having your baby it is gonna be easier to get rid of those extra pounds.
And you have to look good, because … why not? My advice is that you should enjoy all the stages without trying to hide your curves; this is the perfect time to show them. So here are some things that you should avoid:
1. Do not use your pre-pregnancy clothes if they don't fit you. I know, this is kind of obvious, but believe me, there are many women that think that a t-shirt can "expand" to any size just because it is made of cotton. No sexy at all! My recommendation is that as soon as your regular clothes are not fitting well you should buy some outfits for your new situation.
Some women just refuse to buy a new wardrobe, because they say that their pregnancy is only temporary and it doesn't worth it. But, they are forgetting that being pregnant is not a reason to stop their life, they will continue having parties where they have to look good.  There are many specialized stores (in a wide price range) where you can find comfortable and fashionable clothes. Try to buy some basics that you can mix so you don't have to expend a lot of money.
2. Avoid tunics and square dresses. Your body is already big so do not try to hide your beautiful tummy. The tunics will look bigger than what you are. The best cut for your body is the empire (which cut just under your bust). Here I include an example of what I am saying. As you can see although Angelina Jolie is very thin, she looks bigger in the square dress.
3. Being pregnant is not an excuse to stop taking care of yourself. I know that sometimes pregnancy makes you feel sick, but in general that is not a situation that last for nine months, so try to keep your beauty routine as usual. And what am I referring to: go to dye your hair, do the highlights, put your creams, use make up and wax as usual. Remember, you have to be beautiful at any time!
Here are some looks that you can use as inspiration if you are or if you want to get pregnant. Isabella Oliver has great designs that adjust your tummy in a very cool manner.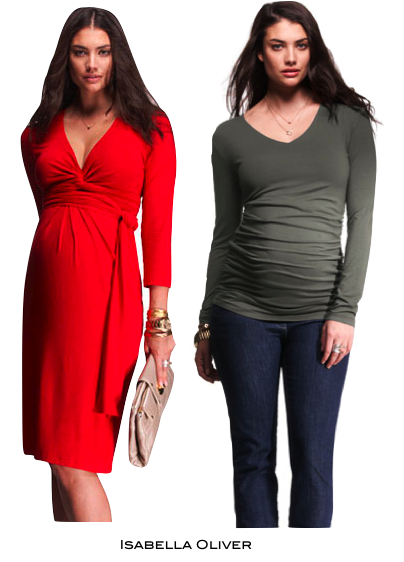 And before I go, one last tip. If you put on a lot of weight, once you had your baby, and you have some more energy, try to go back to your exercise routine, make a diet if you need it and try to recover your body as soon as you can, because the more you wait the harder will be.
Enjoy your baby, your pregnancy and all the options that you have to look beautiful and with style!
See you soon!
Fabiola
This post is also available in: Spanish