The red carpet season started which means that is time of get the awards for the best performances on TV and movies in the US. Last week was the "People Choice Awards" and the "Critics Choice Awards" and last Sunday was the "Golden Globe Awards". I don't know about you, but I just love to watch these shows because I love the red carpet and all the designs, the looks and all the glamour involved. The three events took place with very few days between each other, but I can say that the amount of glamour was very different in each one, the best was the "Global Globe Awards", and also it was interesting to see that on this last one the dresses were very colorful meanwhile on the "Critics Choice Awards" the trend was black and white.
Here a little summary of what I liked the most, for me the best dresses were on the "Golden Globe Awards" because on the others I couldn't find many great examples to show you, especially at the "People Choice Awards" the red carpet was not that good.
I am going to start with the best for me and I am talking about Charlize Theron, I am presenting you two dresses, the black one from the "Critics Choice Awards" is an Azzedine Alaïa that was just amazing, and for the "Golden Globe Awards" she used a Dior, as you can see she was completely elegant and sexy, even though it has a lot of details that could have been too much (the deep neckline, a huge open leg and a beautiful big bow) the whole combination and her hair was just perfect. Loved it!!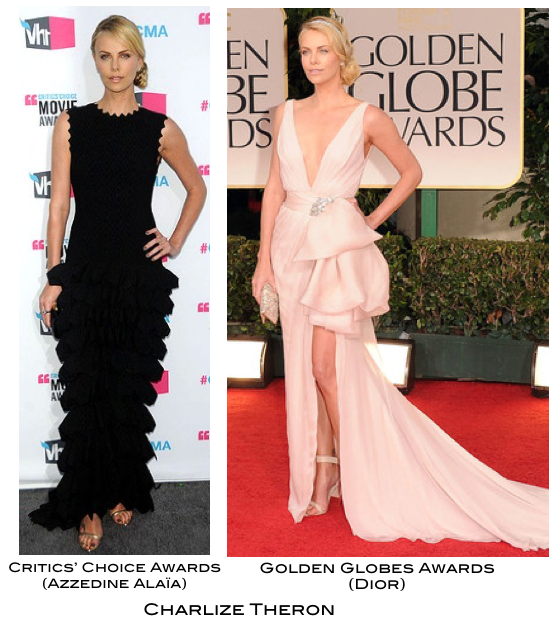 The second one on my list was the design that by the way to celebrities used, not exactly the same design, but very similar. I am talking about Angelina Jolie with a Versace that made her look very elegant and sexy, especially the design was really good for her because due to her extreme thing body the neckline so up was great. The other celebrity is Natalie Portman with a beautiful Lanvin in pink with the neckline detail in red. Which one is your favorite?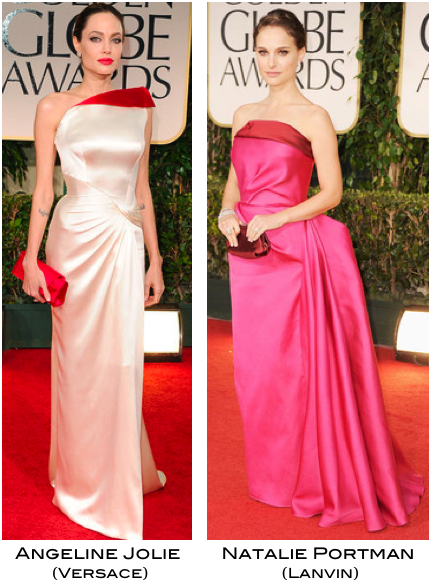 One design that was very common among celebrities, was the mermaid cut dress, that was for some of them a great choice and for others not so good. For example the best was Sofia Vergara, in this Vera Wang she just looked amazing and very curvy, Tilda Swinton with a Haider Ackermann looks very elegant specially considering that she always choose weird dress options that could be good or just a disaster, for example look what she choose for the "Critic Choice Awards" it was an YSL that didn't really worked for her.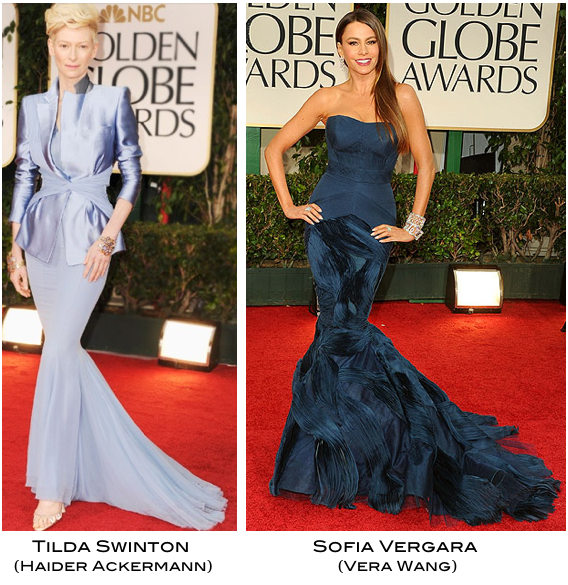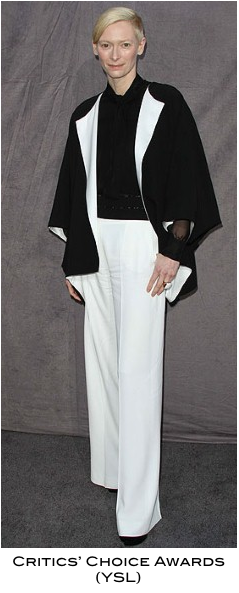 The other two celebrities that used this dress cut and was not really their best option were Reese Witherspoon and Kelly Osbourne. Both of them used Zac Posen designs, but Reese didn't look elegant with that hair and for me she even looked a little fat, and Kelly, well … let's say that it didn't really helped her especially with those sleeves that are quite original but not the best for her, I think she looked better in the "Critics Choice Awards" with a Honor.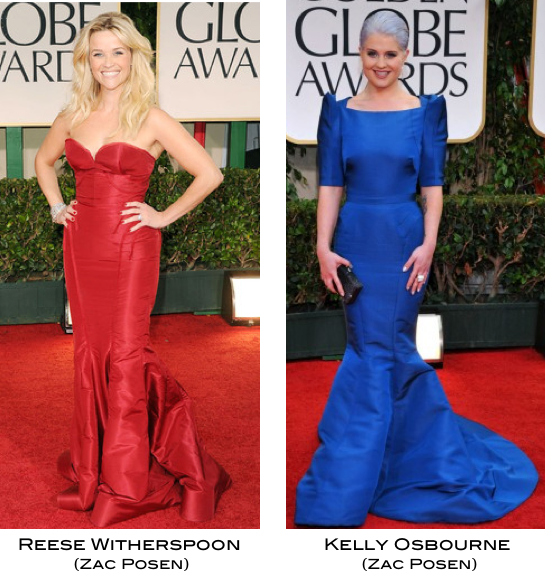 Another trend at the "Golden Globe Awards" were the laces and the tulle, and again here we have three great examples of how to use that in a very sexy way and one very sad example of how to look very bad, and she is Jessica Biel. Although she used an Elie Saab design, she looked more like a sad bride than an elegant celebrity. And don't get me wrong, I really love Elie Saab designs but this time I don't know what happened that it was not the best option for Jessica.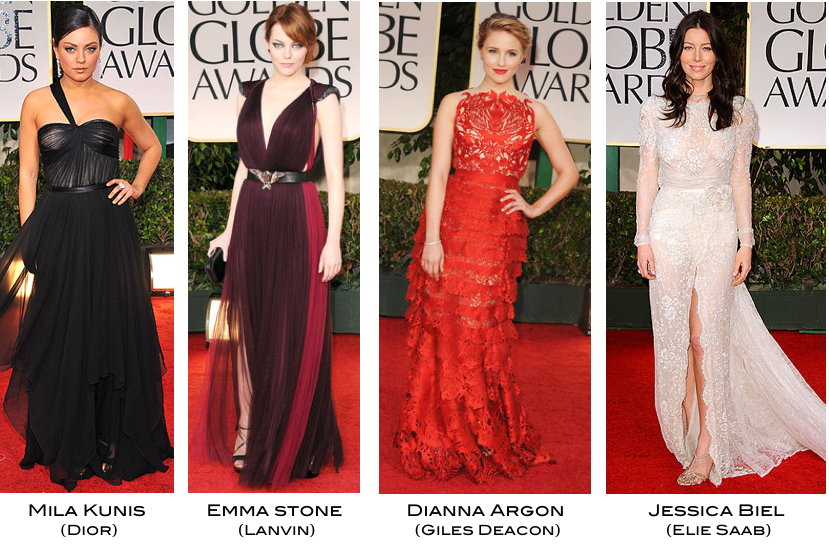 Here we have three designs that have not tulle or lazes, they have exactly the opposite a lot of metal and stones, and I just love all of them. As you can see each one in her own style look elegant and sexy, the only change that I could do is on Zooey's hair because that halter deserve no hair around, don't you think?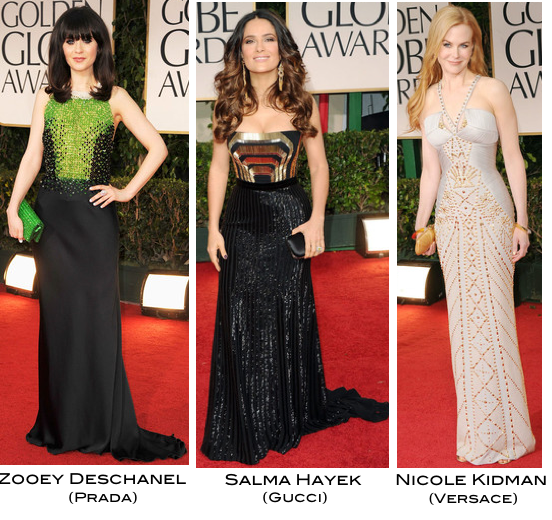 Now here are some examples of how it's possible to look stunning and be over 50, Helen and Meryl look amazing. Madonna looks good but her dress seams to be a little to tight on the top and the skirt was kind of too much … I love her, she looked good but not stunning…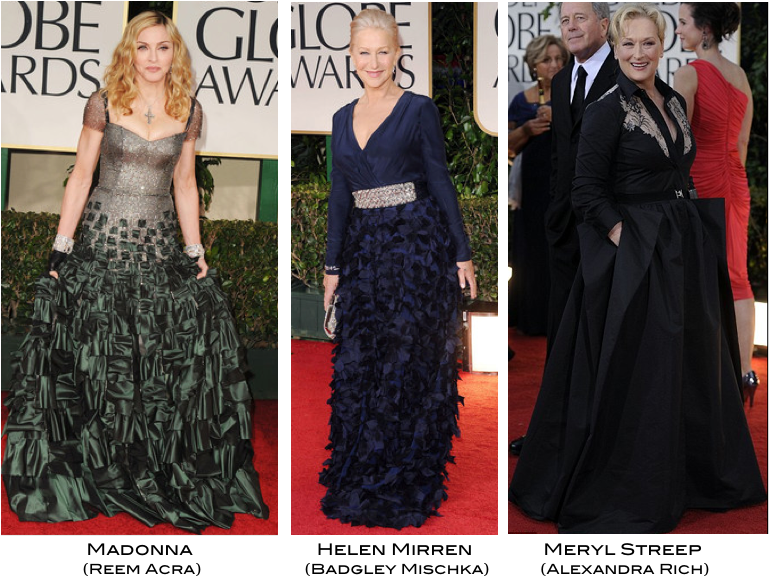 I love Michelle Williams's style, she is always very elegant but in the "Golden Globe Awards" she made a weird choice and she wasn't as elegant as with the dress she used in the "Critics Choice Awards" as you can see in this pictures: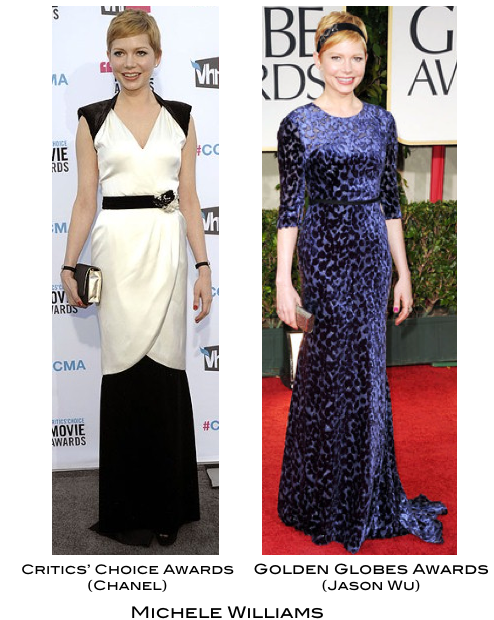 Here are three dresses that are sober, elegant and very original, especially I choose them because  this three girls know how to dress! My favorite design was the Gucci from Jessica de Alba. It was just perfect!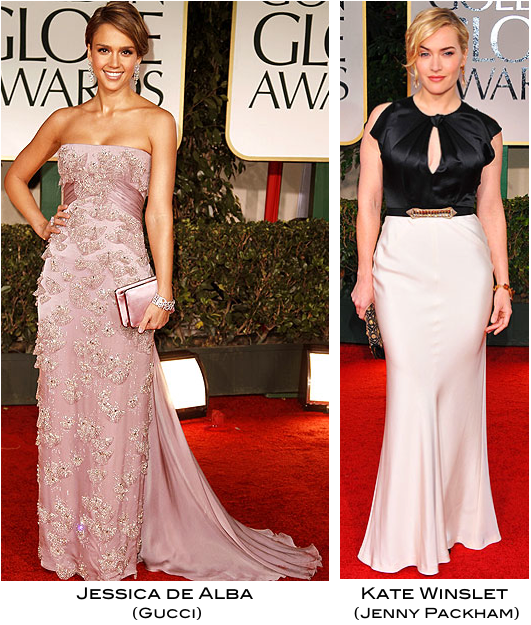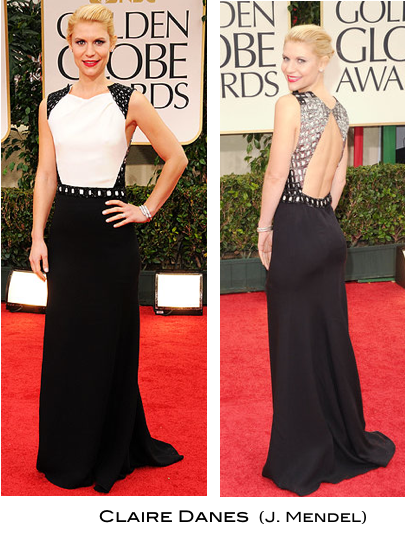 One of the dresses that created a big impact, was the one that Evan Rachel Wood used; it was a Gucci with a beautiful halter and a feather skirt. I liked it a lot because it was very original and she definitely knew how to wear such a dress, great attitude. I also included the one that she used for the "Critics Choice Awards" because I believe she also looked great in that dress, lots of style in both events.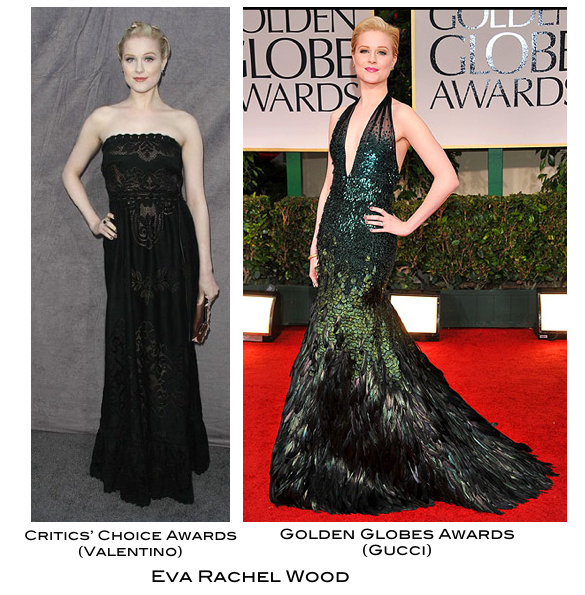 And to close with a laugh, please look at one of the worst dresses that I have seen in a long time, she is Sarah Michelle Gellar in a Monique Lhuillier design that actually looks more like a Cinderella dress after washing it with a lot of bleach! ☺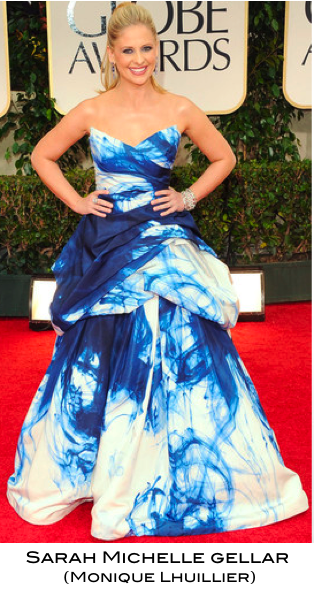 See you soon!
Fabiola
This post is also available in: Spanish