April 25th, 2012
Today I am going to talk about one celebrity that I like a lot and that lately had been very creative and fashionable with all the things that she wore in her show. I am talking about Jennifer Lopez in American Idol. Yep … this is a "guilty pleasure", I am not proud to say it, but … I like American Idol! Ha ha … I enjoy the first stage where they choose the participants and then I just can't stop watching the concerts until the end.
Ok, after making this confession, let's move to fashion and I will show you some of the outfits that she had used in the concerts because they have been awesome, of course it helps a lot her body which is just amazing, in general she knows perfectly what is good for her.
Let`s start with the latest, this Hervé Léger (Max Azria designer) Spring collection 2012. As you can see, it is super sexy and please look at her abs! And she already is a mother of two … I love how she looks; my only doubt is if his kind of super sexy dress is right to be a judge in American Idol or if it could be better for a performance? What do you think?

This is my favorite, perfect color, perfect design; love her hair, all I can say as that she looks amazing. It's a Roland Mouret.

This one is not really one of my favorites, love the color but I am not crazy with the design, but I have to recognize that she looks great. This is a Michael Kors.
This Lanvin is just perfect, very elegant and fun design. This is from the 2012 Resort collection form Lanvin.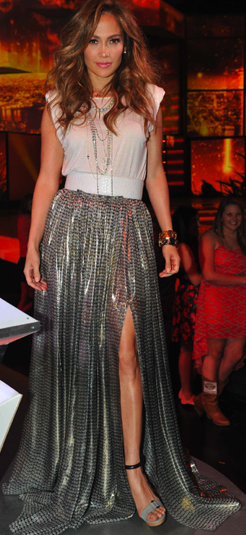 Here you can see how a very simple dress makes her look amazing, this is a Blumarine, Spring 2012 collection.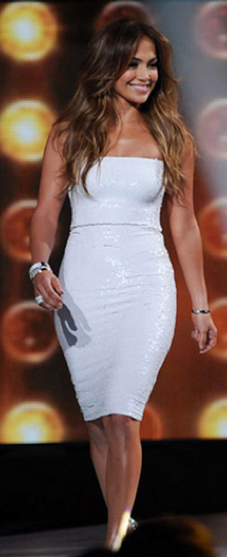 She is wearing a Dolce & Gabbana, Fall 2012 collection, and here I wanted you to compare JLo with the model, I really believe it looks better with more curves, don't you think? This is not my favorite but she looks great again.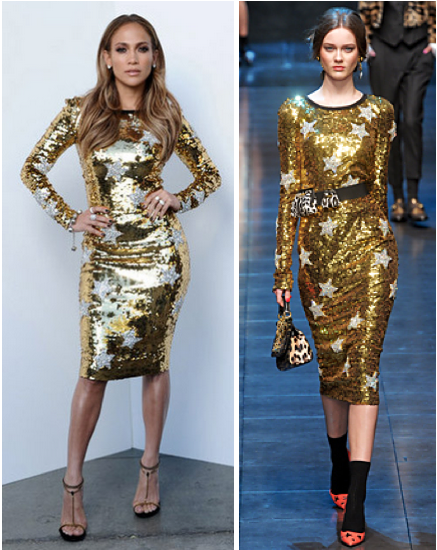 As we can see, JLo knows that the orange is a color that goes perfectly with her skin tone, so here is a Victoria Beckham dress. I love the stripes it looks very modern and elegant due to the pencil skirt.

This black dress is very sexy showing just strategic areas and leaving the rest to the imagination. It's very elegant and the designer is Catherine Malandrino, Fall 2012 collection.

Not everyone can wear a jumpsuit, but last week she wore this beautiful Gucci.

And I wanted to keep this one for the end, because nobody is perfect and I believe this was not a good option for her. This is a Randi Rahm dress, but it is not doing anything for her body, looks even little childish. But … looking at the other outfits, one mistake is nothing, don't you think?

See you soon!
Fabiola