January 31st, 2012
As I told you before, the red carpet season started and yesterday we had the chance to enjoy the SAG Awards 2012 which is the recognition of the best on TV and movies but the jury are the actors, so that makes this awards particularly special.
Here is the best and the worst of the red carpet:
Emma Stone en un Alexander McQueen it was just perfect.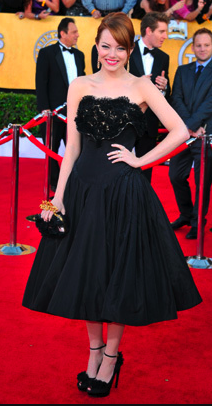 Michelle Williams in a Valentino of asymmetrical cut, it was so elegant and very original. She always looks good.

Sofia Vergara used a Marchesa in a great raspberry color that helped to show her curves, she always look good, don't you think?

George Clooney's girlfriend looks spectacular in this Marchesa, and he was as gorgeous as her in a Giorgio Armani tuxedo. By the way, her name is Stacey Keibler that honestly, who cares!!!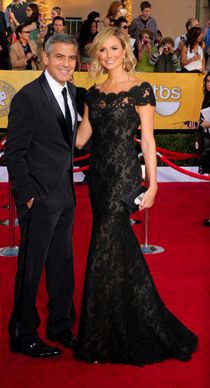 Natalie Portman wore a Giambattista Valli Haute Couture, which was spectacular, she is always gorgeous she is just very elegant always and in the last events she is using always strapless, did you notice that?

Lea Michelle used a wonderful Versace dress, but I am not quite convinced with her, since I don't see her as "fame fatal" it looks kind of fake.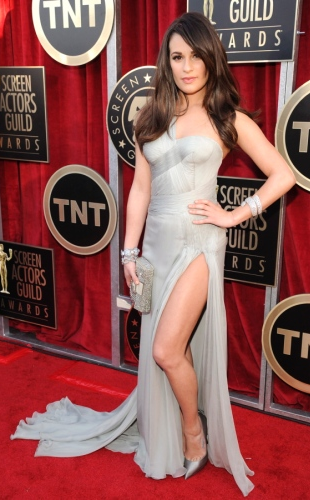 Viola Davis used a great Marchesa, very elegant and nice dress but, I am not completely sure if that size was the best for her, her bust was kind of exploiting, it is a shame because she is always very cute.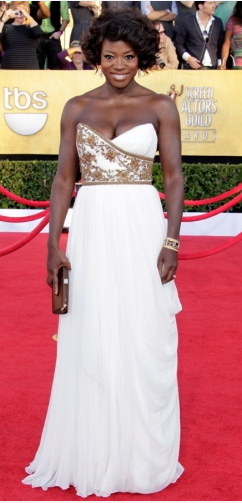 Emily Bunt used a green Oscar de la Renta, I like the dress but I guess I like the green more that the design. John Krasinski her boyfriend used a Prada.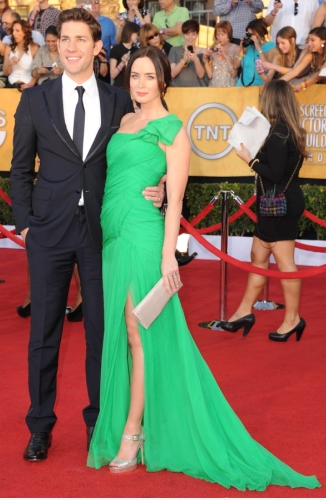 Melissa McCarthy, I just love her because she really knows herself, her body and she always use dress that make her look amazing.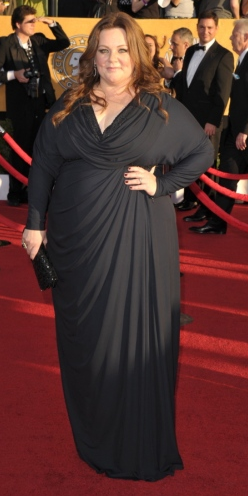 And to close this part of great dresses, here is Glen Close in a Zac Posen and Meryl Streep using a Vivienne Westwood Couture.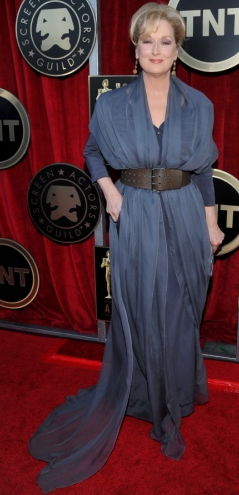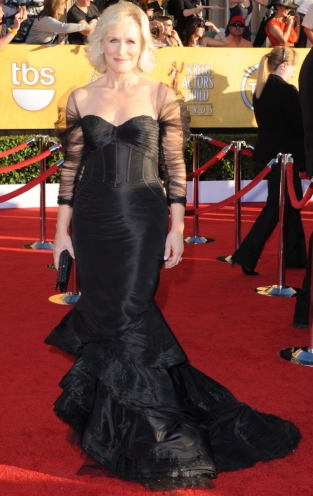 The worst …
Angelina Jolie with this dress from Jenny Packham, she is not looking horrible but I don't think she looks as good as she had been in other events, she looks very pale, not wonderful … Brad Pitt used a Balenciaga by Nicolas Ghesquiere … he looks just good!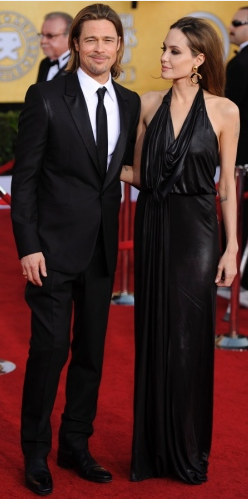 Busy Phillips just look horrible very informal and I guess she thought this was more a hippie event, the dress was by Simone.
Kalye Cuoco, the star of "The Big Bang Theory" show was just plain the dress was good but that color and that hair … it was not her best day. The dress was by Ramona Kaveza.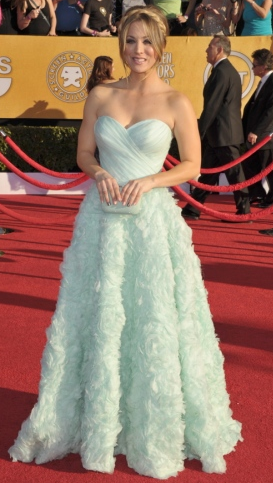 Zoe Saldana, in this Givenchy Couture was just like she was in a pyjama or some dress very weird and ugly.

Maya Rudolph is about to explode in this Naeem Khan, what about using your right size?

Jessica Chastain in this Calvin Klein Collection was not horrible but too simple for the occasion, and with that body, come on! Use something more flattering!

What do you think? Which one is your favorite?
See you soon!
Fabiola