November 25th, 2011
Finally I am back in Buenos Aires and I found a total and very hot Spring-Summer environment. Even though is still Spring, we have days of 27 degrees which, as you can imagine, means that swimming pools are full, people take out from the closet their bikinis and the soft and thin dresses, but specially means that is time to use a lot, but really a lot of sunscreen.
Few weeks ago I went to the dermatologist with my mum, and the doctor detected on my mums skin a little something that was not serious but still was something bad that Thank God, they removed and nothing more will happen, but believe me, it was kind of scary to see that something that doesn't look at all as a mole was something bad and even dangerous. I asked the doctor how this could happen and he told me that my mum had that thing from the sun that she took when she was young. OH, OH!!!! "Houston, we have a problem!!!" And not only me, I think we all have a problem since at least me and my friends used to put on to get tan what ever potion that people suggested. I am talking of things like beer, coke, carrot juice, baby oil, etc. I used to spend every single weekend having suntan in order to be like a fried potato! I thought that was so cool!!! But now I know that it was not so cool, because I have to go and visit the dermatologist more often after what happened to my sweet mum …
As you can imagine, that episode, inspired me to write about some things that we have to consider every time we expose our skin to the sun. It is important to take care of our body in order to avoid end up with a nice shrimp tan! The following tips will be helpful for you, if you live in the south cone where now is almost summer time, or if you live in the north hemisphere where even though is winter but you can go to the beach:
1. Do not get a suntan during the time where the sun is stronger (from 11 am to 2pm). Now, if you live in the south cone, I will say that you should try to avoid it until 4pm because here the sun is very strong for a longer period.
2. Always use sunscreen before expose your skin to the sun. The best moment to apply it is just after the shower because then your skin will really absorb and you can also be sure that you put it in all your body. Then during the day, if you swim, take a fast "beach shower" to get rid of the salt or the bleach from the pool, and then put again sunscreen all over your body, that way you will be protected all the time.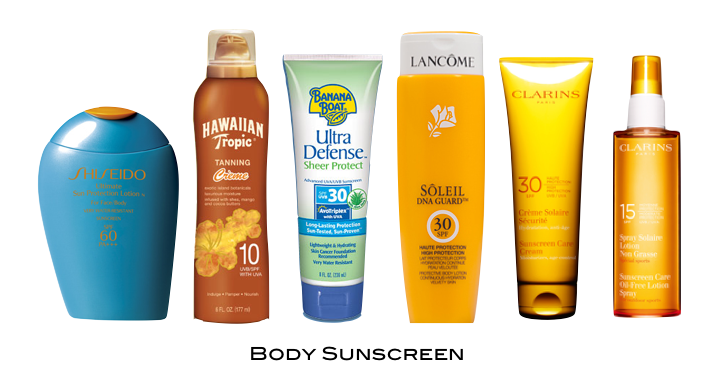 3. If you have very sensitive skin, use a body sunscreen factor 20 (minimum) and a face sunscreen factor 50 (this will help you to avoid the horrible sun stains that usually last for ever in your face). Also, another good option, is to use a hat to avoid the sun directly to your face, this is not "an old person" thing, is a "protected person" thing.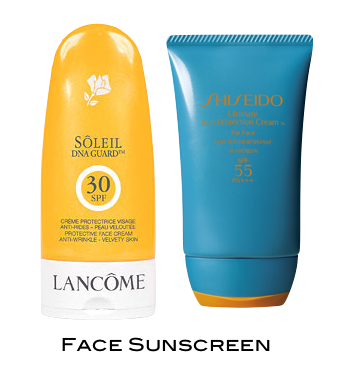 4. Now, if you want to have a perfect even, but protected tan, once you apply the sunscreen, try to be under the sun the same amount of time for each side of your body, don't forget the laterals, it is not nice to be white under your arm! And please, avoid the horrible stripes of the bikini it is not sexy to have the sun mark in your back or in your chest, avoid it!
5. If you have children, do not forget to protect them if the sun is too strong put them a t-shirt, it's always a good option to protect them.
6. For sensitive lips, use a lip sun block with the higher factor that you could find, try to use a special one for the lips not the regular sunscreen for your face. In my case, I suffer a lot if I don't use it because I immediately get lip sores.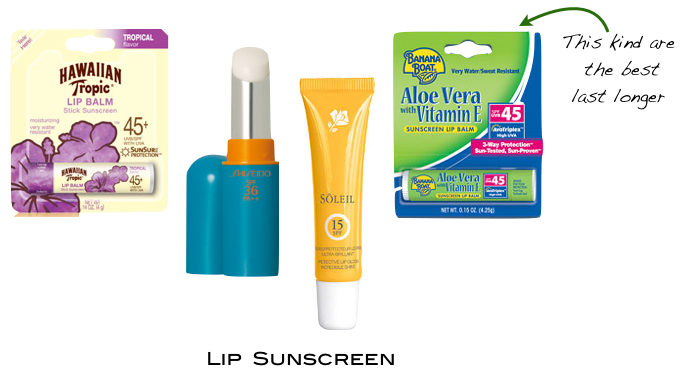 7. If your hair suffers from the sun and get too dry, you can also put on a product to protect it, and survive from the salt of the sea and the bleach from the pool.
8. All of the previous advices apply for men an women (well the one about the bikini stripes not), but I am mentioning this because we all have to take care of the sun, forget that thing of "men do not need sunscreen", the sun is stronger every day so the sun block has to become your best friend.
With all these tips, I am sure you are ready to start enjoying of the sun and the beautiful days that come ahead, so take your sunscreen and enjoy it!
See you soon!
Fabiola