April 28th, 2011
Today we are going to talk about how to wear stripes and look great. Currently, stripes are in fashion and we can find them in different wide and directions. It is important to know why some strips are more flattering in your body than others, so that is going to be today's topic.
The first thing that you have to understand is that when we talk about the effect of stripes in your body, we are talking about the optic effect that those stripes do to your body. I am sure you have always heard that horizontal stripes put on you weight and vertical stripes make you thinner.
But guess what? This is not always truth! In the "Mail Online" of England, you can see a research about how stripes could change the look of different women (all with normal bodies). So, as you can see in the link, the result was that not always horizontal stripes make you look bigger. In all the cases horizontal stripes were more flattering to women. But, there is always a "but", I don't believe that is only because they are horizontal, it is also because the shape of the dress is more flattering than the one with vertical stripes dress.
So … is there any rule than we can always applied related to the use of stripes?
Well, the answer is no, because actually all depends in your body shape and how and where you are putting stripes on your clothes.
Here are some tips to help you to learn how to use stripes, although the best will be to try the things and look yourself in the mirror, remember stripes are all about perception.
• The best way to use stripes is matching them with solid colors so your outfit will be balance and you will not look like "Beetle Juice" girlfriend.
• You can match stripes with patterns. Don't be afraid! Maybe you feel that they don't match but trust me they do, especially with flowers, great combination!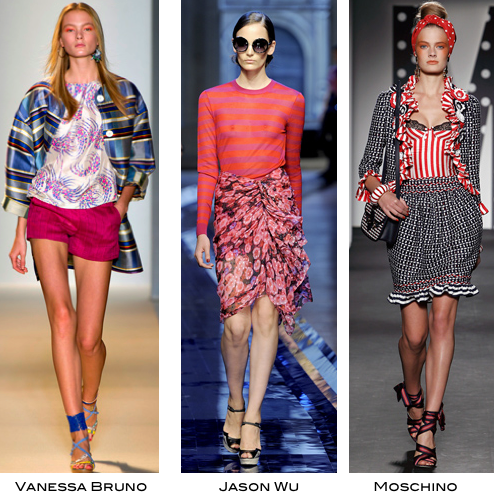 • Try to use stripes not only in tops but also in skirts (horizontal stripes not to wide) and pants with vertical lines. Both things will help you to look thinner!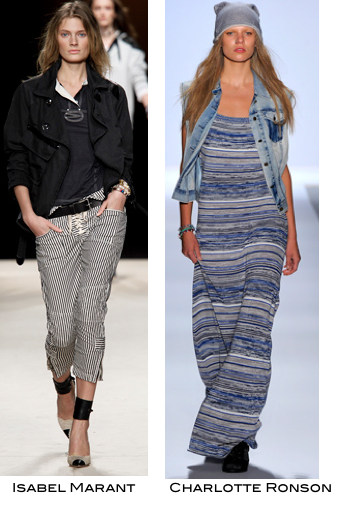 • The new basic is the stripes t-shirt you can use it with everything jeans, skirts, with a jacket, etc.

Remember, as I always tell you, the most important part of all this is that you have fun. Don't be afraid to use the clothes that you want! Try the stripes and you will not regret. You will love them!
See you soon!
Fabiola