January 10th, 2011
Hello again! Hope you had a wonderful holiday and that you're starting this 2011 with a big smile on your face and ready to make of it a great year. Since in the south hemisphere people are in the middle of the summer, here are some advices about bikinis … who didn't struggle choosing the right one? So here is an interview with Ivette Ramirez partner of a very cool bikini brand Nina swimwear.  Hope you enjoy it.
First a little about Ivette …
Ivette born in Puerto Rico, but she moved to New York since 1997. She studied Industrial Engineering in her country and then in NY she to joined the corporative world in companies as J&J, Kraft and Pfizer.In 2008 she became partner at Nina Swimwear with Agustina Palacios who is the owner and designer of the brand. Ivette join the company because she has always been fan of the swimming suits, which by the way she collects. Since she became partner at Nina Swimwear the company started to have international sales and headquarters moved to NY. Nevertheless, they have always maintained Argentina and Punta del Este as the main markets.
Now lets talk about bikinis …
1. What do we have to consider when we choose a bikini?
First, you have to know your body to know which part do you want to make more obvious or less notorious. People think that the more fabric the best for your body shape, but that is not true, all depends on the cut of the bikini. For example if the short is "V" cut is better for your butt. In Nina swimwear all of our designs are seamless so it doesn't cut your body in any part.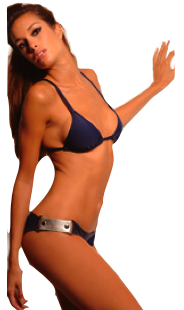 2. About the top, which one is the best for those who has big breast and why?
If you have big breast you need a top with support, the halter is the best. The triangle cut is not flattering because if you have natural breast, it doesn't give you the support that you need. Remember, everything has to be always on its place! The top strapless is good but it has to be with support on the sides.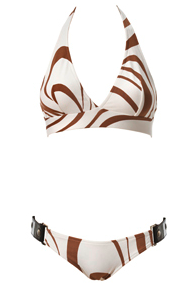 3. And what is the best for those who have no breast?
The best are the pleated tops, it gives a volume effect. We have one model of those in our collection.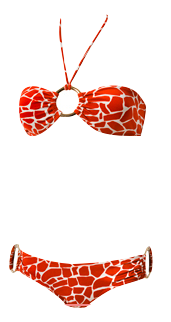 4. About the short, what can we do to create the effect of a bigger butt? And what can we do to make it look smaller?
Plain colors, specially the dark ones, are the best to give a "thinner" effect. You will look slimmer with a plain color bikini. The key is the cut of the short. The American cut (complete) makes your butt bigger, the best is the "V" cut because it helps to lift your butt. A thick lateral band on the short helps to reduce your hips, the little stripe of the triangle bikini is not that flattering because it mark your curves, the only advantage is that it is adjustable.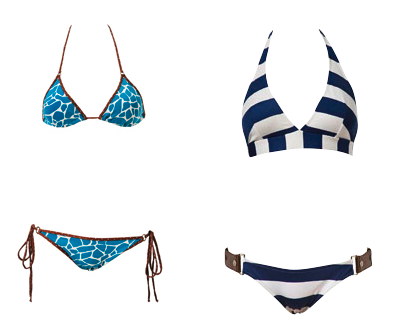 5. What about the fabric, is that important in how a bikini will look on us?
It is important, the lycra is good because it gets dry fast, cotton is uncomfortable because it takes more time to get dry and it doesn't flatter your bodyline. The best is the micro fiber, a special kind of lycra that is made in Europe. We bring the micro fiber from Italy because is the best quality and it is very soft.
6. Which bikini cut is the most popular?
The triangle cut is the most popular because you can adjust it to your body, it is good to get a perfect tan but it doesn't give much support, is not for everybody. Also for a good tan you can use strapless but always with support on the top.
7. What do you think about the complete swimming suits?
Swimming suits are the best for beach or pull parties; if you use it with a beach wrap (pareo) you have the perfect look. Also it is good if you want to cover some tummy or fat in your body. Nevertheless, the swimming suits are not only for the fat ones, it could be very sexy and elegant. Be careful of print swimming suits especially with horizontal lines, it is not flattering, it will make you look bigger.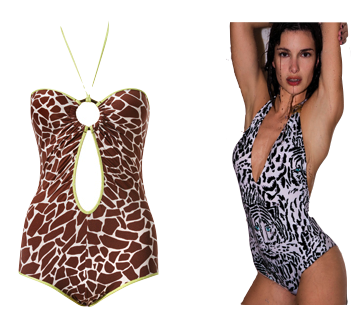 8. Tell us about the Nina Swimwear bikinis why are your bikinis different?
I think the main characteristics of our products are the design, the fabric and the quality of the product. We design sexy bikinis; with out being vulgar, all of them are south American (Argentinean) style, "V" cut and very cool. The fabric comes from Italy; and in our products we mix lycra and leather. The manufacture is done in Argentina taking care of every single detail. It is a high quality product, sexy and elegant. I believe the big challenge for us is the American and the Australian market where people like a more conservative bikini; we want to cover those markets but maintaining our style.
9. Where can we buy the Nina Swimwear products?
In Buenos Aires we have a showroom, and also some sales persons in some hotels as the Faena, and in some stores as Charlotte Solnicki in Punta del Este. In the States you can find our products in the Couturecandy website and internationally we have products in some stores in Marbella, Hawaii, Maui and Ibiza.
10. What do you recommend us to look great in a bikini?
Don't eat "dulce de leche" (typical Argentinean delight … and she laughs … ) I believe the more important things is to feel comfortable, you have to wear what looks better in your body but specially what makes you feel pretty, sexy and confident. It is not necessary to follow the trends; you have to wear what makes you feel sexy because then the others will see you sexy.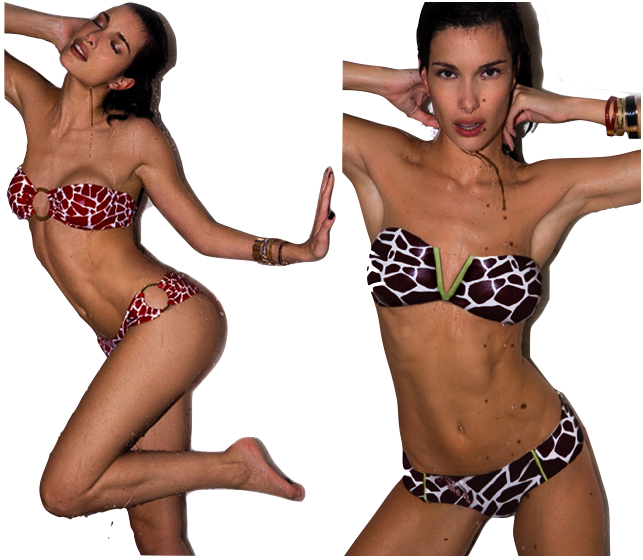 And before we finish …
How do you define the style in a woman? Which things define it?
It is easy, either you have style or you don't, just like that, it is something that you cannot buy. You have to know yourself and learn what is the best fit for you, you have to be different, unique … I really believe the best is to ignore trends it is like a uniform, the more important is to use what look best on you according to your body, your face and your skin color. Don't be afraid of combine things, fell free, have fun! Remember that your clothes are the reflection of yourself and your personality.
Can you give an advice to all the entrepreneurs that are just starting?
You have to be very confident in what you are doing, in your product. Take intelligent risks, you have to be aggressive but not crazy. You have to know your business before starting anything. And be very patient because is not easy to start a business …
So … what are you waiting, go and choose the best bikini for you! Remember the best one is the one that makes you feel sexy!! (I love that advice).
See you soon!!!
Fabiola